There are many types of online English teaching jobs. Some jobs specifically ask for a degree and others require you to be from a particular region or have a certain amount of teaching experience. This article will focus on online ESL companies that hire online ESL teachers who are native speakers from North America.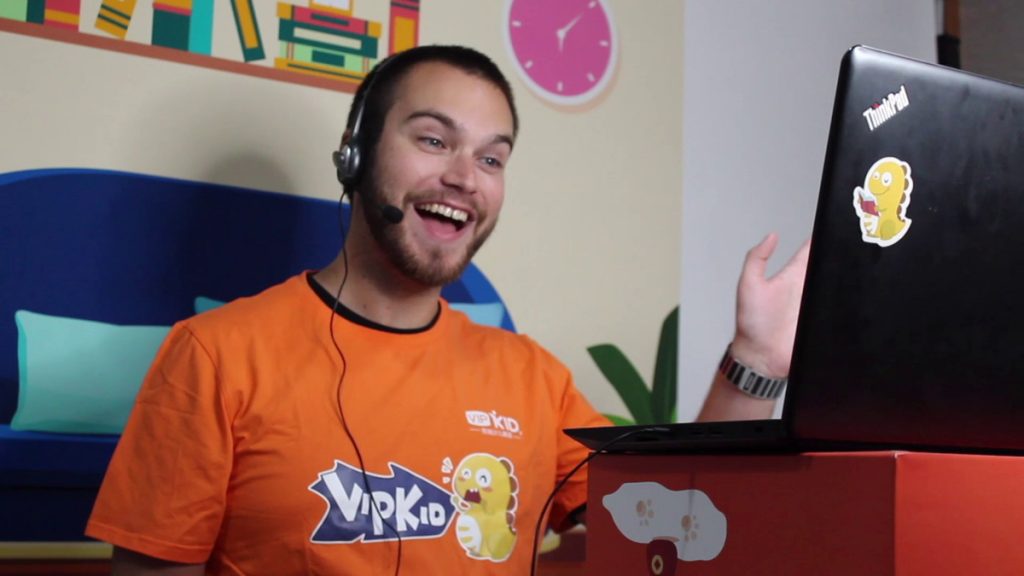 The Best Online English Teaching Jobs
My list of these companies is not exhaustive by any means of all the online English teaching jobs in the market. There are dozens, if not hundreds of companies. Some are large, some are small, some pay well, and some do not. It is important to do your research and determine what it is you are looking for if you want to teach English online. Some companies book for you and some are parent-booked. The best online English teaching job is really different for everyone. Find one that stands out and go for it! It is recommended to apply to several and have 1-2 as backups because diversifying your income increases your job security and options for working at home!
1. VIPKid
VIPKid is one of the most popular online teaching jobs for native speakers. Why?
They have been around for a while. VIPKid was ranked by Forbes as the #1 work from home job in 2019 and they continue to grow fast and remain reputable and a great place to work according to many VIPKid reviews.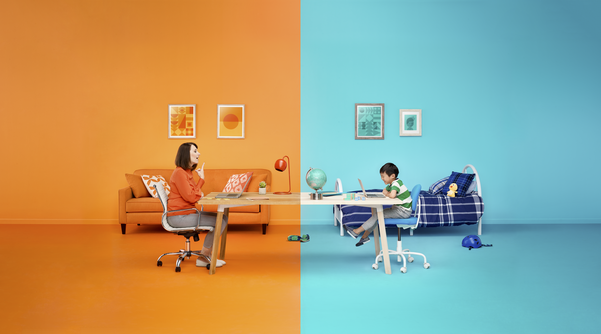 Requirements
North American (from US or Canada)
Completed Bachelors Degree
Native Speaker (neutral accent)
1+ years of teaching-related experience
TESOL / Teaching Certificate (You can get one here for $19).
Please read more about the VIPKid requirements and how to make sure you pass the application!
Hours
VIPKid is open from 8:30am – 10:00pm BJT (Beijing Time). It is difficult to get students from 9-10p due to recent changes in the Chinese government that won't allow young children to take classes that late at night.
Peak Hours when students are in school are 7:00p – 9:00p BJT (7-9a EST)
All of the above hours are available for bookings and there are students taking classes during all those times. However, your most likely to get students when they are not in school so that would be after school hours in China, which is typically early morning in US and Canada.
Pay
The VIPKid pay is competitive compared to other online teaching jobs. They advertise a pay of $7 – $9 / class. This is called your base rate. A base rate is the pay rate given for teaching a 25 minute class. In one hour, you are able to teach two classes so you're base rate is $14 – $18 / hour. Your base rate is set after your interview demo.
VIPKid also has an incentive program for teaching classes and more about this can be explained in this video:
Application Process
Basic Information. Apply to VIPKid and fill in their basic information form. This is a non-committal form that just allows you to create an account and move onto the second stage of scheduling or recording your VIPKid interview.
VIPKid Interview. The VIPKid currently has 3 options: A Live 5 minute lesson, A Recorded 5 minute lesson or a 2:30 lesson recorded via your smart phone.
Certification / Mock. Once you pass your interview you are able to schedule your Mock class. It is highly recommended to attend online coaching to ensure you understand what they are looking for. You can choose to certifiy for the Lower Levels or Upper Levels. You can certify for both before signing your contract or certify for one and then add the other level after contract. The difference is that after your contract the certification will be recorded rather than live.
Final Stages. This is when you will upload all the required paperwork proving your degree, citizenship and any other information you put on your application form. You will also be required to upload your TESOL or complete theirs. VIPKid will do a background check on you and then you will be able to make your profile. The final step will be to sign your contract and begin teaching!
Other
VIPKid is a parent-booked company which means that you will create a profile and parents will be able to book you. The lessons are all provide for you and there is minimal preparation needed. You will provide a little written feedback after class but most teachers can do it in the 5 minutes between classes. VIPKid has no minimum hours required which means you can open or close slots as you wish. You are more likely to get returning students if you are consistent and are available during peak hours. That being said, you can get booked anytime and there are lots of options for creating your schedule. As a new teacher, be patient with your bookings and stay consistent!
2. Gogokid
Gogokid is a newer player on the block. They made an appearance in 2018 and have slowly been growing and becoming more reputable and well-known. They are owned by Bytedance, which owns the famous TikTok app. They have modeled a lot of things after VIPKid and many VIPKid teachers have added Gogokid as a secondary company.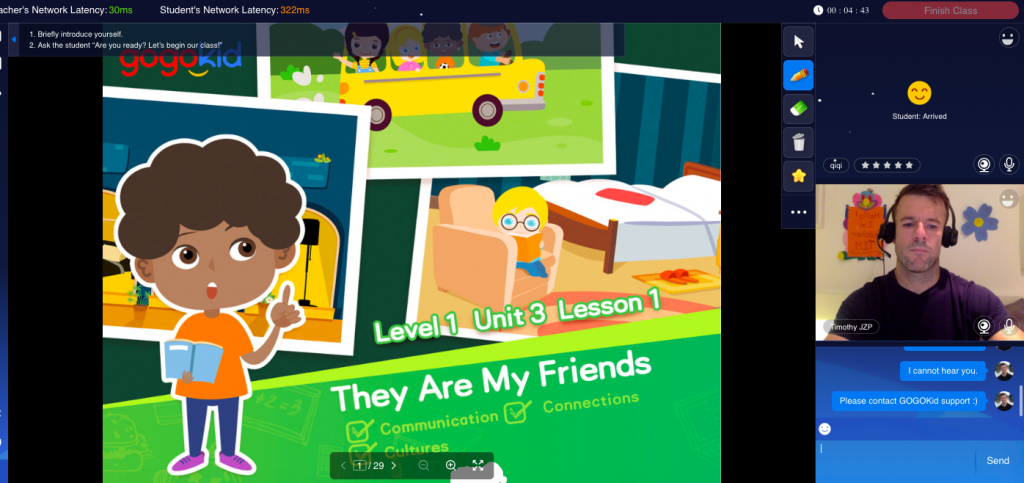 Requirements
North American (from US or Canada)
Completed Bachelors Degree
Native Speaker (neutral accent)
1+ years of teaching-related experience
TESOL / Teaching Certificate (You can get one here for $19).
Hours
Gogokid is open from 9:00am – 9:00pm BJT (Beijing Time). As with VIPKid, it is more likely that you will have students booking you during peak hours or when they are not in school (weekends, public holidays, national holidays, etc…).
Peak Hours when students are in school are 7:00p – 9:00p BJT (7-9a EST)
Pay
The Gogokid base rate pay is usually a little higher than VIPKid. Their advertised rate is: $7 – $10 / class. Classes are 25 minutes in length.
Application Process
The image below outlines the Gogokid Hiring Process at a glance:

Basic Information. Apply to Gogokid and fill in their application form. Make sure that you fit the Gogokid Hiring Requirements. Your application will auto pass / fail based on those criteria.
Interview. This is a very short demo lesson entitled "Finger Mountain" in which you will have to schedule your interview appointment and be prepared to either teach it live or recorded. You will not know until you enter the classroom.
The Orientation stage consists of a quiz which can be quite difficult. Make sure you have set some time apart to go through the training materials. You will also have to complete the Mock Class 3.0 which will also either be live or recorded.
The Paperwork stage is simply just uploading your paperwork, proof of degree, passport and anything else you listed on your application.
The last step is to sign your contract and begin opening up slots to get booked!
Other
Since Gogokid is a newer company, they are often changing policies, contracts and trying to improve. Sometimes this can be frustrating! Gogokid is similar to VIPKid in that they are also a parent booked company. Many teachers find them a great company to have as a backup but also as a primary company because they typically do pay better than others. The Gogokid classroom is very interactive and engaging but also leaves a lot of room for extension and for the teacher to be creative in extending the lesson topic to ensure that you teach the full 25 minutes.
Other Smaller Online English Teaching Jobs:
3. Magic Ears
Coming Soon….
Requirements
Hours
Pay
Application Process
Other
In Conclusion…
Interested in Applying for Online English Teaching Jobs ?
Feel free to use the referral links listed above under each online English teaching job. By doing so, you will get support and help through the hiring process as well as lots of free resources!
Pin It!