Let's talk about online teaching props for teaching English online! Every online teacher needs them and every online teacher has a different perspective on how many to use, what kinds to use and what are the most helpful for your classes! There are many kinds of online teaching props you could use and I will give you my suggested ones to start with regardless of what company you work with.
Jump to: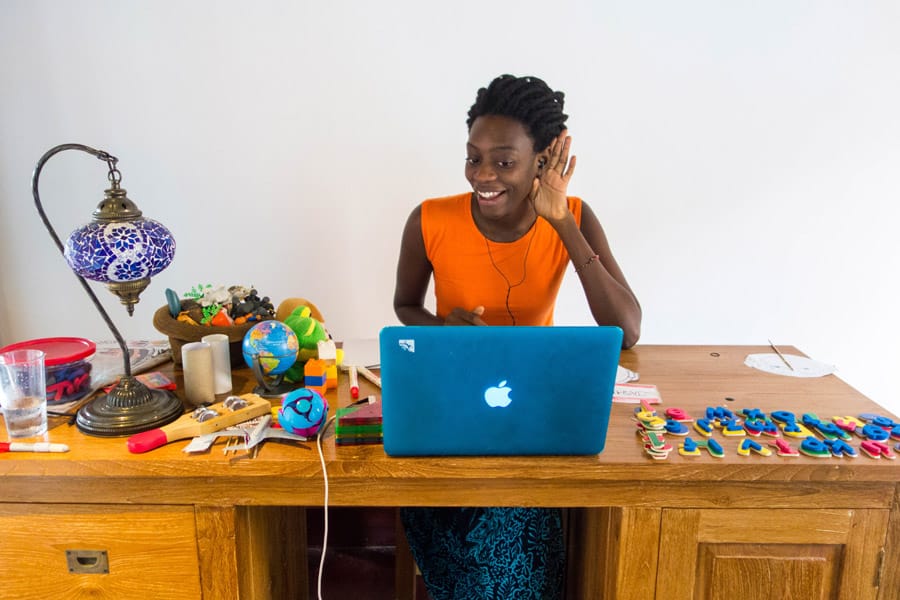 What are ESL Online Teaching Props?
An online teaching prop could be defined as a visual aid to support your teaching. It is anything that you use as a supplemental tool to help the student learn what you are teaching.
For example, if you are teaching about fruit – having real fruit to show the student would be a great use of a prop!
Or, perhaps you are teaching about verb conjugation – why not show that on a whiteboard?
Are you teaching about animals? Can you show different types of animals to the students in either 2d or 3d form? Or maybe you want to try digital props? The sky is the limit!
6 Amazing Props for Online Teaching
Click on the image to see price details and more!
1. Microphone
A microphone is a great online teaching prop because it can be used for singing or speaking! It is a great way to show your student that it is their turn to speak or sing!
2. Whiteboard (dry erase board)
You will never run out of ideas for using a small hand held whiteboard prop in your classroom. This is a must have prop for all online teachers! Lots of options for sizes and variety.
3. Finger Puppets
Finger puppets are such a versatile prop to use in your classroom because you can use them for teaching about animals, colors, body parts, conversations and just plain old having fun!
4. Hand pointers
Hand pointers will let you get creative in your classroom with how you give directions to your student or how you want to model something for them. These are fun props that bring directions to life in your online classroom!
5. Magnetic letters
These are great to use on your magnetic whiteboard – be sure to use them for grammar, verbs, names and spelling – the possibilities are endless. We love versatile props around here!
6. Classroom puppet sidekick!
Puppets are essential for your classroom – grab one of these from the Puppet Company on Amazon and let your puppet bring branding and life to your classroom. You can use puppets to encourage shy students or bring humor to your classes!
Looking for more prop ideas? Check out my Resources page.
Printable Teaching Prop Ideas
Printable teaching props are just props that you might find on the internet and print them. You can search for royalty free images on pixabay and then print them, cut them out and stick them on a popsicle stick to use as quick supports when teaching new content.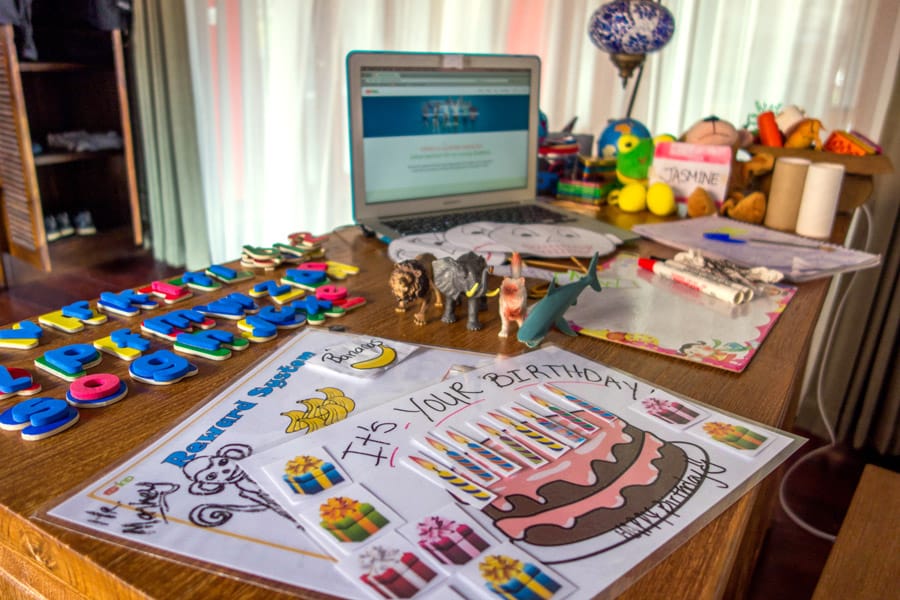 DIY Props for Online Teaching
I love DIY props! These are props that you make at home and can turn into authentic props for your online classroom.
Here are a few ideas for some DIY props that you can easily make with items from around your house.
Small boxes can transform into a house, or be used to teach 3D shapes
Grab a large, old sock to create a sock puppet!
Your own children's toys can transform into great DIY online teaching props
A helpful tip to start thinking about DIY props is to ask your self if the item can be used in your classroom before you throw it away! You will be surprised what you can create from nothing!
Online Teaching Reward System Ideas
Many online ESL companies require or suggest using secondary rewards for your students. This is usually in addition to the built-in rewards that you will find in your classroom.
Rewards can be fun, simple and engaging for your students and highly motivating for students who struggle with focusing or just need a little extra encouragement.
Think of rewards as quick and simple motivators for your students to give them when they do a great job in a particular area of the lesson. Try to space your rewards in a timely fashion so that you are giving them every 5-10 minutes of teaching.
Here are 3 fun rewards that you can use in your classroom:
1. Find a Star Reward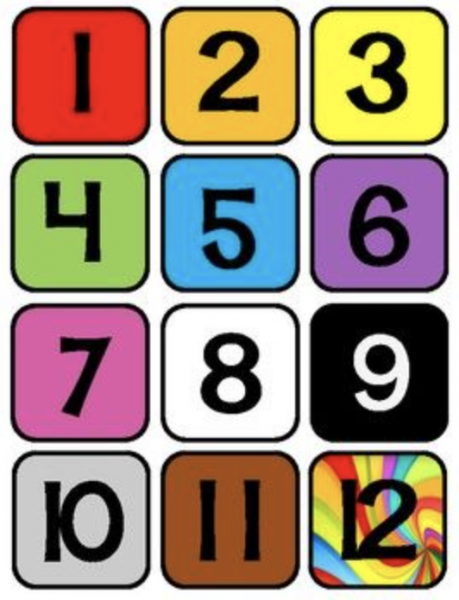 The premise of find a star is simple. Use a cookie sheet, or any kind of board to hold up (even a whiteboard)
Then, stick pictures (whatever you want), and up to 5 stars on the board.
Cover each picture or star with a number like the image on the left.
Students pick a # and receive a star or a photo reward! It's fun and the kids love it.
2. Draw a Picture Reward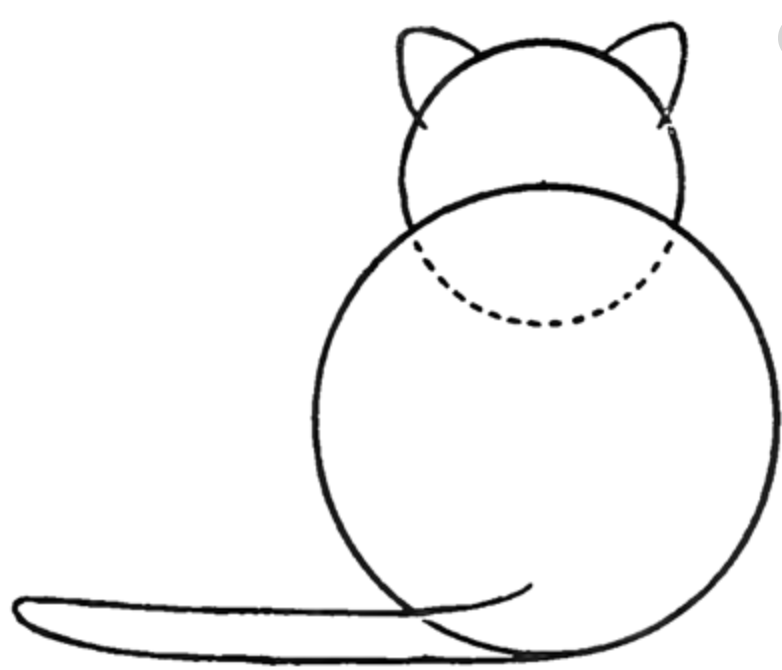 If you have any drawing skills (or, even if you don't!), you could learn how to draw simple animals.
Each time the student gets a reward, you draw another part of the animal.
After 5-6 sections, the animal is complete and the student has to tell you the name of the animal.
3. Cumulative Scene Reward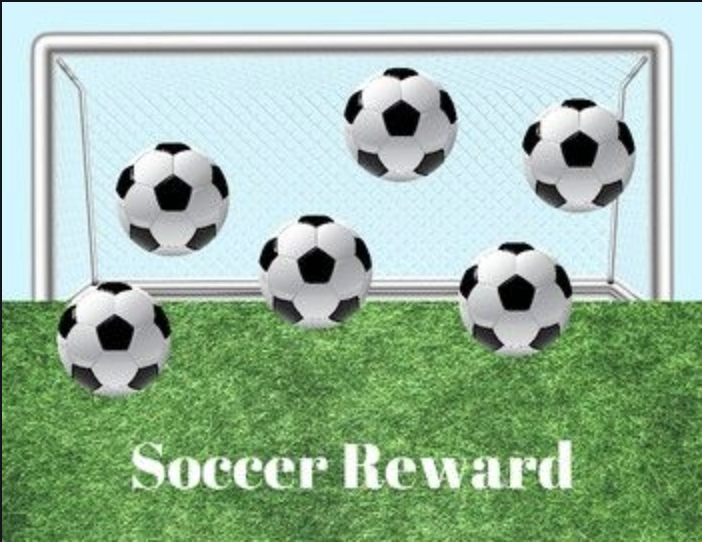 A cumulative scene reward is just a scene like a soccer field where you add a soccer ball each time they get a reward.
By the end of the class, the student can count how many "goals" they have!
You could also use ice cream cones, zoo scenes or a fish bowl! Lots of possibilities.
Digital Online Teaching Props
There are lots of ways to turn into a minimalist and not use as many physical props and rewards. Many online teachers enjoy using digital props and rewards with applications like Google Slides and ManyCam.
Google Slides Digital Props
If you are a VIPKid teacher, you would be familiar with the famous VIPKid Google Slides Facebook group which is a wealth of knowledge and resources of all digital props for lessons within the VIPKid platform.
If you are not a VIPKid teacher, fear not! You can certainly still get started with Google Slides for incorporating more digital props and rewards into your classroom.
Google slides is the Google app for making presentations and it allows you to make powerpoint type presentations on your device (ie: iPad). You can then show the slides to the student in the classroom to show prop examples from the lesson. Some of the slides can be made interactive and you can use it as a reward as well.
Manycam
By far, using a digital webcam software application like ManyCam is the most popular way for online teachers to incorporate digital props and rewards into their classrooms. Think of ManyCam as your way of controlling your webcam and putting whatever effects you want on the screen for your students!
Manycam is free but also has a paid version. You can easily get started with ManyCam using the free version but a lifetime subscription is not that expensive and will allow you to use chroma key to add digital backgrounds using a green screen!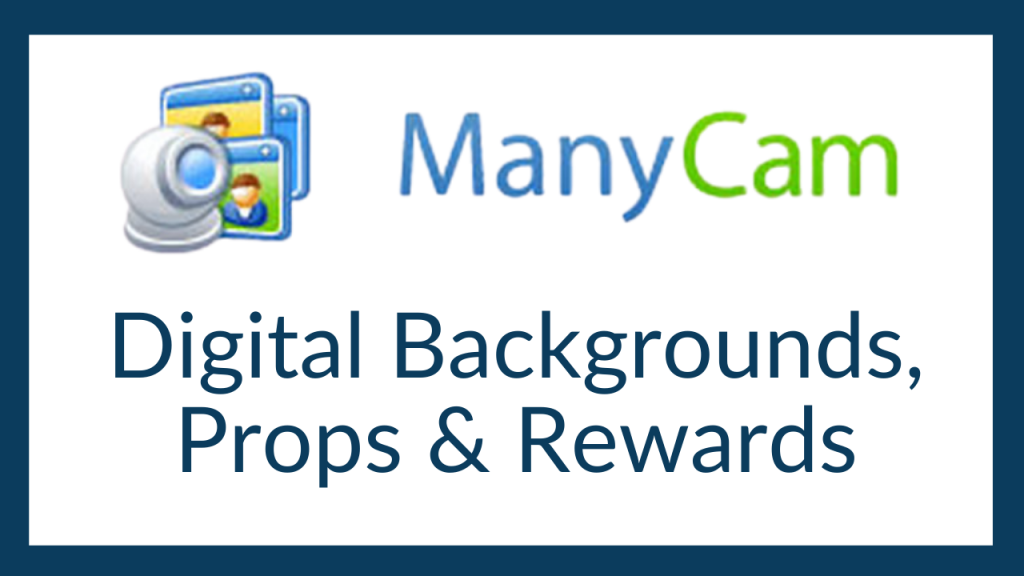 Awesome VIPKid Props
Are you a VIPKid teacher specifically looking for VIPKid props such as Dino, Meg or Mike? VIPKid props are great to have if you are a VIPKid teacher – you can purchase these directly from Amazon!
Check out these fun ones below:
The most important thing is…
to do what works for you! You might want to have loads of online teaching props in your classroom or maybe you want to be more minimalistic and use digital props.
Don't spend a lot of money when you get started. Keep things simple and just focus on the basics and filling your online classroom with what will make it enjoyable for you and your students.
These props are merely meant as a suggestion and not a requirement. Happy online teaching!
Pin It!