Classin is an online classroom option for online teachers to teach students virtually around the world. Recently they announced that on February 27th, 2023, they will be changing their free plan. Classin's new pricing structure will mean that the free account will only allow a teacher to teach 20 hours in total (not per student) for the entire month.
While this announcement comes as a surprise to many, it is important to understand that they are making financial decisions for their business.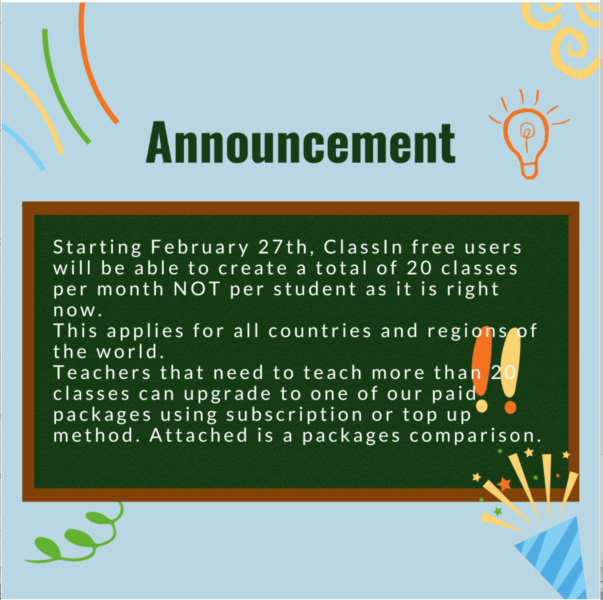 Classin Free Account
The new Classin Free Account will have major limitations if you are wanting to teach multiple students with multiple classses per month.
Key Features:
20 Lessons per month (total, not per student)
Lessons are 45 minutes in length
Maximum of 4 cameras (1 teacher v 3 students)
COST: FREE
The free account is a good option if you are unsure if Classin is a good tool for your teaching business. If you just want to get started, you can start with the free account and then upgrade if you enjoy the tools and interface.
Classin Pro Account (Consumption)
The Classin Pro Account or sometimes called the Classin Pro Consumption account is a good starting point if you have just a few students and you are not teaching many classes.
Consumption means that you top up an amount into your account, and as you teach, the cost of the class will be deducted from your top-up amount. When you run out of money in your account, you can just top up the minimum payment.
Key Features:
No limit on amount of lessons you can teach
Lesson duration: up to 3 hours
Teach up to 6 students at a time
Record lessons for free
Batch create lessons
COST: 5 RMB / student / hour (around $0.70 per student per hour)
Minimum pre-payment (top up) of 100RMB (around $15).
The consumption model might be a good starting point for you if you only have 2-3 students and you are just teaching 1-2 classes / week.
IMPORTANT: There is NO 20% discount with this consumption package.
Classin Subscription Account (Monthly Payment)
The Classin subscription account is just that…a monthly subscription to use Classin. There is no top-up or consumption model with subscription. It is a one time price and you get all the features that you need to teach online with Classin.
Key Features:
No limit on amount of lessons you can teach
Lesson duration: up to 24 hours
Teach up to 6 students at a time
Record lessons for free
Batch create lessons
COST: $160 USD for 6 month subscription OR
$300 USD for 12 month subscription.
The subscription model would be good if you have several students and you are teaching multiple classes each week.
Join below for a 20% discount on your subscription to Classin.
After the 20% discount, the subscription model would be:
$128 for 6 months (approximately $21 / month) or
$240 for 12 months (which is $20 / month)
Classin Business Account (Consumption)
The Classin business account is another type of consumption account similar to the Pro account. There are some differences which I will go over below:
Key Features:
No limit on amount of lessons you can teach
Lesson duration: up to 24 hours
Teach up to 13 students at a time
Record lessons for free
Basically you get all the features of Classin that you would need.
COST: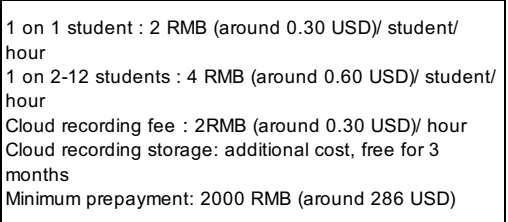 Overall the cost per student is much less if you are teaching 1:1 but there is a minimum prepayment of 2000 RMB, which is $286 USD.
There is also a fee of 2rmb / hour of cloud recordings if that is something that you need.
While the prepayment of 2000 RMB or around $290, the subscription model is still cheaper at $240 / year. It's just a different model and more designed for teachers who are building a bigger business with their online teaching.
However, if you take advantage of using my 20% discount link, you can apply this to the business consumption account
So, for 2,000RMB – 20%, you would pay 1,600 RMB or $232 USD.
At the publishing of this blog post, and the current exchange rate, this is cheaper than the subscription model.
The advantage to this model is that the 2000 RMB is not per year and there is no expiration date. You can use it until you consume all the credits so you would need to look at how much you teach, and how many students you have to decide between the different payment plans.
Example Situations
Now let's look at some actual potential online teaching situations to see what plan would be best for you.
TEACHER ANGELA
Teacher Angela teachers 12 students. 6 of her students she teachers 2x / week and the other 6, she teaches 1x/ week. This means she teaches 18 classes / week (9 hours). In total, she teaches 36 hours / month.
If Angela chose the consumption model, she would need to pay 5RM / hour / student which would equal approximately 180 RMB / month which equals $26 / month, which is higher than the subscrition model. In Angela's case, I would chose the subscription model with the 20% discount.
TEACHER ROBERT
Teacher Robert is a new independent teacher. He has 5 student that he teachers only 1x week. For one student, he teaches 2x week, so he only teaches 3 hours / week or 12 hours / month. If he chooses the consumption model he would only be paying 60RMB / month or $8.70 / month. In Robert's case, I would choose the consumption model to start with.
Robert wants to grow his business but he is not ready yet to pay a subscription so starting with the Pro Consumption model would be a good starting point and he can upgrade at anytime.
My Recommendation
If you are just starting out with online teaching, I would recommend the free account and use the features of Classin with a couple of your students to see if Classin is a good fit or not.
If you are actively teaching online and you have several students, I would be looking at the Subscription account or the Business Consumption account.
One option is to do the 6 month subscription account to see how much you are using and then upgrade to the business account down the road if you think that you would benefit more from it in the long term.
Use the link below and fill in the form. You can then discuss your options with a Classin representative to choose the right account type for your situation.
Check out some of my other blog posts below: