Feedback Panda is your all in one feedback solution as an online ESL teacher. There are lots of ways to do your online ESL teaching feedback and everyone has their own unique style or method of getting it done quickly. One thing we can all agree on is that doing feedback after a string of classes is not that much fun! Who wants to create more time for themselves and cut down on the amount of feedback you write?
Feedback Panda is a tool to help online teachers save time on feedback by allowing you to create and use templates for your feedback that are customizable for your students. This app is used widely by many online teachers who work for online ESL companies.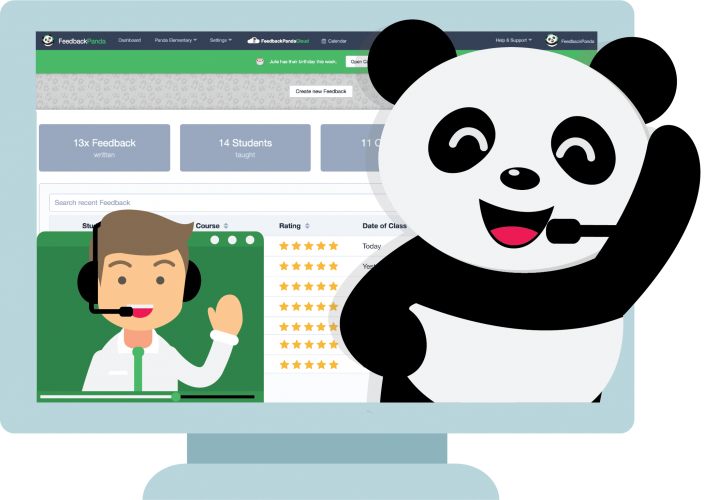 Using Feedback Panda has saved me hours of extra work."

– every online ESL teacher using Feedback Panda
What is Feedback Panda?
"We manage your course, student, and feedback records and generate feedback based on templates which are then fully customizable. Allowing teachers to provide helpful feedback and quality teaching."

Feedbackpanda.com
Feedback Panda was created by a teacher for teachers and takes into account the needs of online ESL teachers. It is a feedback generator tool that let's teachers save time and cut down on the amount of time spent on writing feedback for their students.
Why I Use a Feedback Tool Like Feedback Panda
Feedback tools like Feedback Panda allow teachers to get their feedback done faster by using templates, saved sentences and phrases, and integrating the app with various online ESL companies like VIPKid, Gogokid, and Magic Ears (just to name a few). Feedback tools are a big time saver and will save you hours of time. The ability to take your lesson key content and create templates and customizable sentences make Feedback Panda a great tool for any online ESL teacher.
As a VIPKid teacher, I have done feedback in many different ways. The Feedback Panda VIPKid integration makes doing my feedback so seamless and simple.  I started out typing out notes during class and writing my feedback from scratch after classes were finished. In some cases, this could take me up to 45 minutes!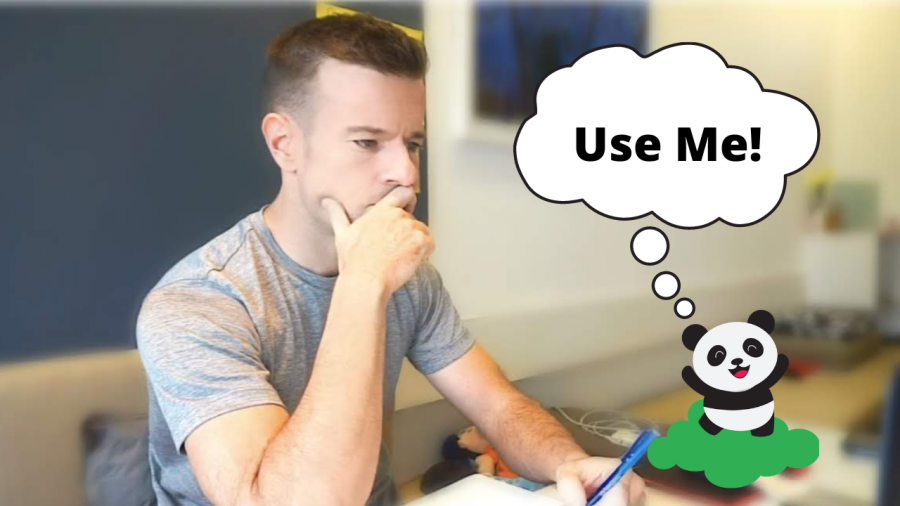 Then I started getting faster and writing out my feedback between classes but I was always rushed and could never have time to get anything else done. If I had to run and grab something or get a drink of water I usually couldn't finish and had to do it when classes were finished.
After finally getting my 30 day free trial, I realized that I could still create authentic and meaningful feedback for my students and their parents without spending the time that I was spending to create the templates and paragraphs. I now can easily complete my feedback in 2-3 minutes and have time to spare to grab a drink or a quick snack! Time is important to me and the last thing I want to do after classes is worry about feedback. Thank you Feedback Panda!
8 Feedback Tips for Online ESL Teachers
1. Create Templates
Despite it being a feedback generator that uses templates and saved sentences, you can still customize your feedback and start your template from scratch.  It allows you to be extremely individual by adding in detail from the class, special moments and your own opening and closing sentences. You can still be unique in the way that you say things.  Many teachers use the templates but add their own sentences or particular things that their student needs to work on or did a great job with.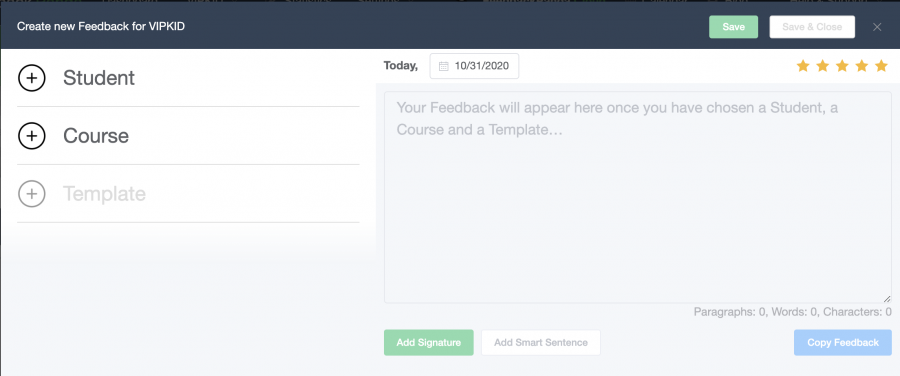 Many others also use the blank "Create Template" above to start a brand new template or feedback for a particular class. You are able to upload this template or just keep it to yourself and use it with other students for that particular class. Alternatively, you could use this template for all classes by adjusting the language for struggling or high achieving students.
The possibilities really are endless for how to use the feedback templates. Personally, I use the cloud and customise other teacher's templates but I know of many teachers who also create templates from scratch!
2. Use Signatures
Using the signatures feature in Feedback Panda is a great way to make ending your feedback fast, easy and effective. I like the idea of ending each feedback with a signature sentence or several sentences which cover everything you want to say.
For example, you might like to end each feedback with: "[name] did a great job in class and tried really hard! I am excited about his progress. Please let me know in the feedback if I can do anything else to help your son. Looking forward to seeing you again soon! – Teacher Tim EL"
Using Feedback Panda signatures make this as easy as the click of a button!
3. Feedback Panda Cloud
The Feedback Panda cloud is the golden ticket within Feedback Panda. It is the reason why this feedback tool is so effective and amazing. The cloud allows a collaborative approach to sharing templates and using templates that are effective and easily customizable.
When you click on the Cloud within your Feedback Panda template generator, you can see dozens if not more templates created by other teachers for that exact lesson. You can choose a more popular downloaded one or a less popular downloaded template.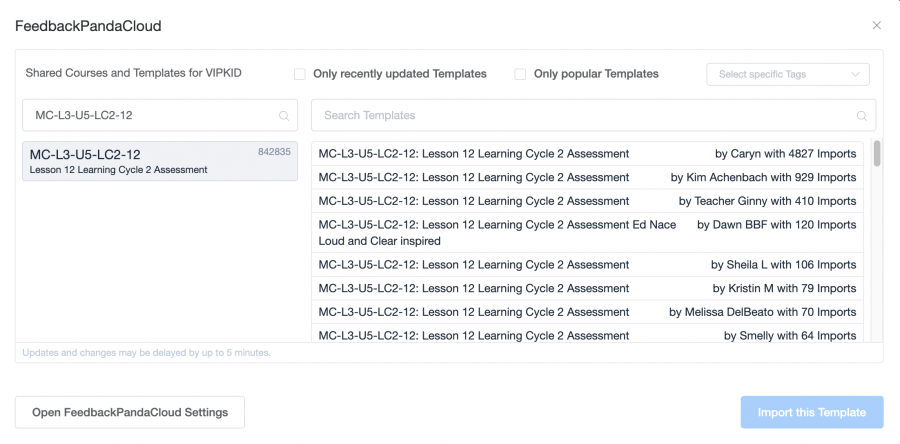 4. Student Details
You can keep track of your students and save information about them like their gender, birthday, age and special notes or reward systems you used. This is really helpful if you track them in another location so you can keep it all in one app rather than multiple places. You can quickly check student nicknames or the name that you call them by storing this information within the app. It also shows you how many times you have taught the student which is also really helpful.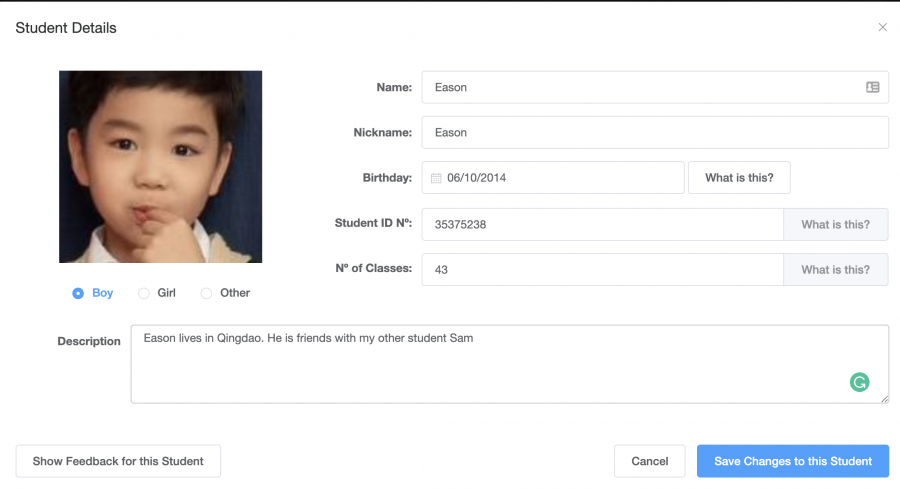 The student profile section allows you to keep on top of your students. You can see how many times you have taught the student, their birthday, special notes, and previous feedback. I love this feature and it really helps me keep track of my previous students, especially those that I have not seen in a long time!
5. Feedback Panda Dictation
The Feedback Panda dictation is a chrome extension that allows you to speak your feedback into the template rather than typing. This option might be good for you if you are too tired to type or you are in a hurry!
Be careful though, dictation is never 100% accurate and you will want to review what you spoke to ensure it makes senes!
6. Smart Sentences
Smart sentences are just smart ways of creating sentence templates using phrases and sentences you use often in your feedback.
For example, let's say you have a child that constantly has technology issues (Haven't we all had those before!). You can create a smart sentence that says something like:
"[name] often has wifi trouble and difficulties maintaining a stable internet connection. Can you please help him take class near the router or help him to solve the technology issues during class".
7. Feedback Panda Recovery Tool
Have you ever lost feedback you were working on? The new Feedback Panda recovery tool allows you to recover feedback that you lost. The app saves your work every 2 minutes and saves the last 50 feedbacks so you can easily recover them with the click of a button.
Here's how it works:
Open up "Help & Support"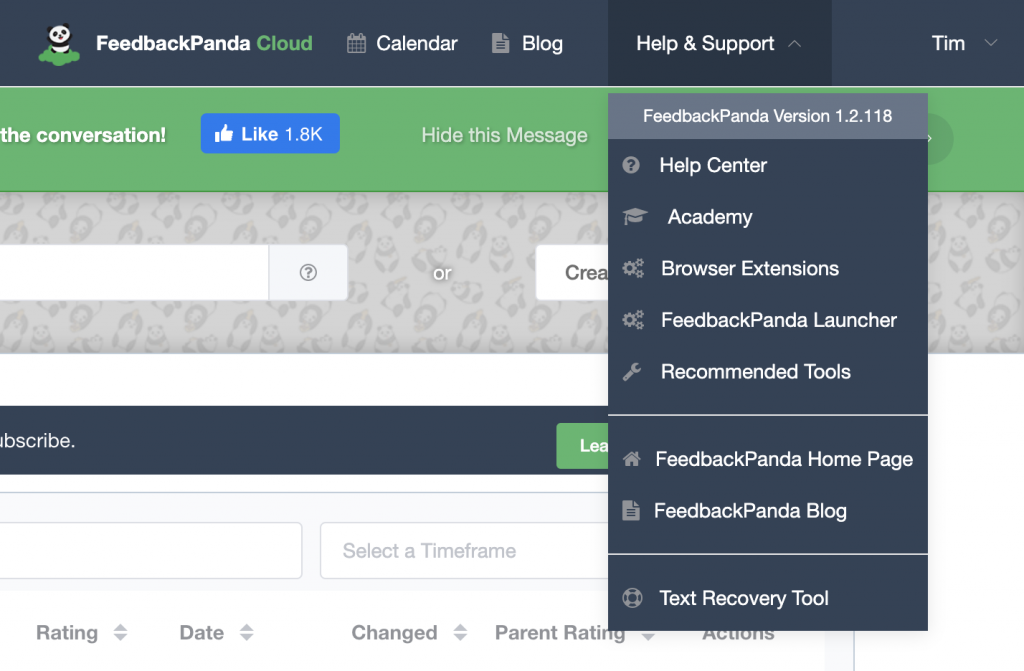 2. Find your feedback. Copy/Paste and Recover!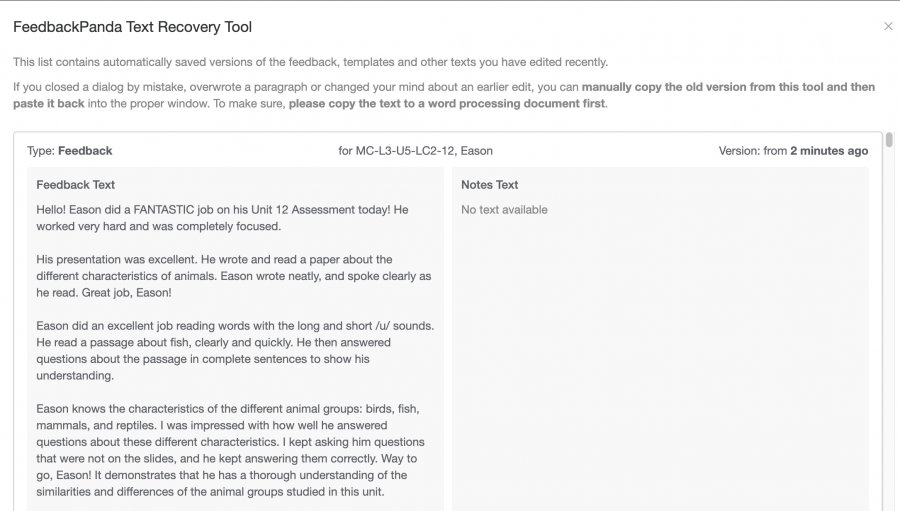 8. Feedback Panda VIPKid Launcher
The Feedback Panda VIPKid App Launcher is a new integration that allows VIPKid teachers to connect their VIPKid PC App with Feedback Panda so they don't need to use the browser integration. They can do it immediately ending class within the app.
The integration takes them from the VIPKid app directly to Feedback Panda which saves a little time. Stay tuned as Feedback Panda is working on other company app integrations as well!
Want to Teach ESL Online?
Pin It!