Magic Ears recently made some big changes to their hiring requirements and hiring process which I wanted to let you know about.
I used to actively work for Magic Ears and decided to stop teaching for them in 2019. This was not because I thought they were a bad company to work or that they had done anything wrong to me for but rather because I didn't feel they were the best company for me.
In this industry, we have a lot of choice as online ESL teachers and it is important to make decisions that are best for your situation and for the types of classes you want to teach. However, with these recent changes, I wanted to let people know in case you are looking for some alternatives.
Magic Ears Highlights
higher base rate pay than other companies
flexible cancellation policy
the company books classes instead of parents
interactive and engaging platform
a small company with a focus on teacher engagement
speedy hiring process (read below)
Magic Ears is hiring outside North America
That's right. You read the title correctly. The following is a quote from a recent email to hired teachers:
While the Neutral North American accent has reigned supreme in the online ESL industry, it's our belief from our own personal experiences as ESL learners that we will be able to generate an even deeper understanding and appreciation of the language by introducing our students to English speakers from many backgrounds. We will continue to adhere to our curriculum and pronunciation standards in teaching, and we will work hard to continue to attract, convert, and retain new students to keep bookings high. "
So, what does this mean for interested teachers outside of the US and Canada? They recognize that there are a lot of qualified native speakers that are from other countries or who are not American or Canadian. Therefore, they are open to hiring from other countries.
This doesn't mean that all native speakers from other countries will be accepted. They are still in search for applications with a neutral accent, preferably a North American accent. I know that this is vague and just as vague as their email so ultimately it is left up to their discretion. However, if you feel that you have a neutral North American accent, you are encouraged to apply. Maybe this will help a lot of teachers who are from other native speaking countries.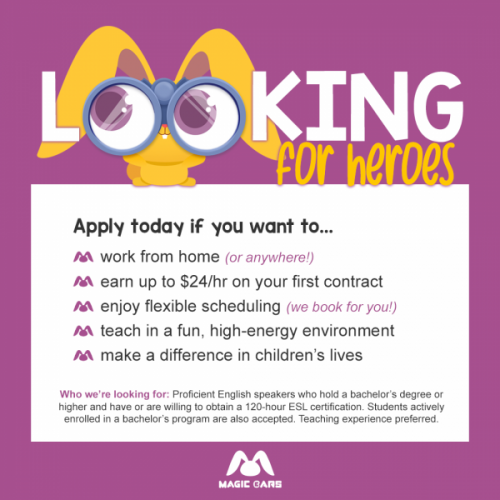 They also hire applicants who are in their final year of University so it can be a great option for those that have not yet graduated from University. You must be actively enroled in a bachelor's program but some form of teaching-related experience is required.
Magic ears is offering 1:1 classes
Magic Ears has always differed from many other online ESL platforms in China because they only offered 1:4 classes which means that you would have up to 4 students in a classroom. Some people really like this and some prefer the 1:1 class types.
Their philosophy was that they were able to offer less expensive classes to a wider range of students who may not be able to afford the 1:1 classes that a lot of other companies specialised in.
Well, this has changed recently and they are now offering parents the option of having 1:1 classes. What does this mean for teachers? Well, it used to be that one teacher was able to teach four students so now that there are 1:1 classes, there is a huge need for more teachers and they are expanding their teacher base to accommodate this.
While many online ESL platforms in 2020 are saturated with teachers and flooded with applications making bookings difficult in the beginning, Magic Ears is on a hiring spree and looking for teachers!
Need a TESOL?
Magic Ears requires this of their teachers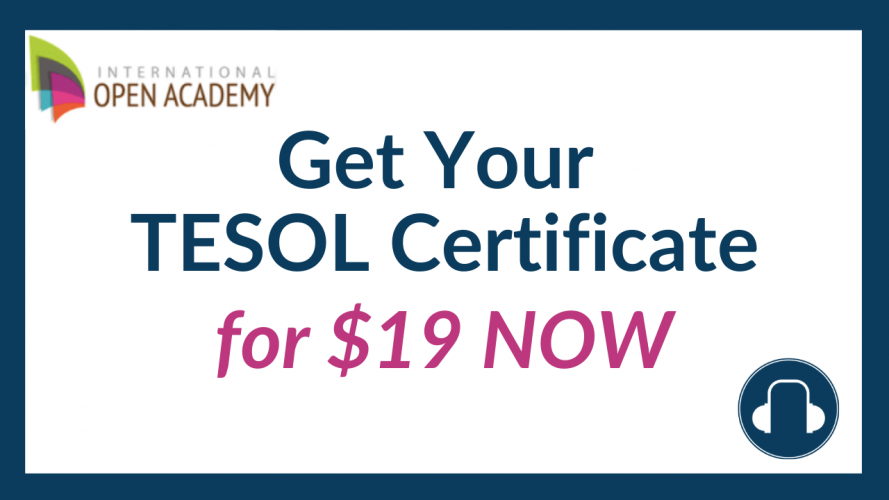 Magic Ears is expediting applicants
Magic Ears used to have a fairly lengthy hiring process and they are very selective in who they apply. Previously you had to:
Apply
Interview
1v4 training
Full trial class
Document check
Contract signing
Now, the process is shorter and you are able to skip the trial class entirely and have a training/trial demo which is much shorter and includes training and a final screening. You can begin teaching much sooner in this new hiring process! Check out the updated Magic Ears hiring process below: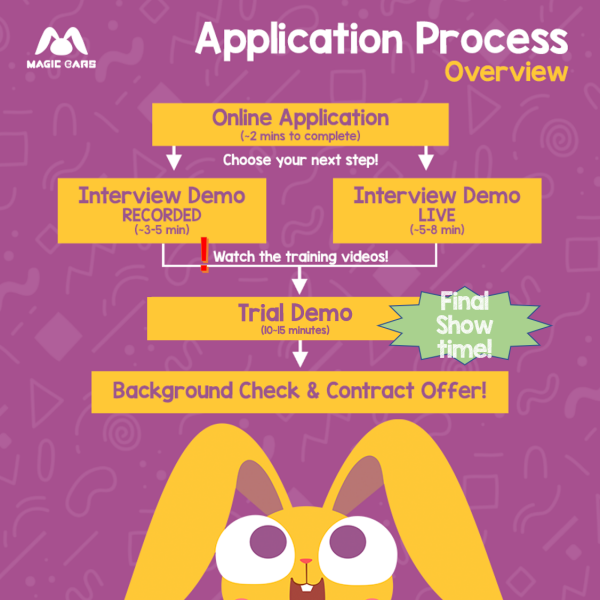 Should I apply?
This is a very individual decision. I would suggest applying to Magic Ears if you:
need a job soon and qualify to work for Magic Ears
want to diversify from your current online ESL company
are curious about other options and want to give it a try
are looking for higher paid online ESL companies
Magic Ears is selective, but it is very possible to get hired, be successful and enjoy working with them!
Interested in other companies?
Pin it!