I was first drawn to the Magic Ears pay scale when I was starting out as an online ESL teacher in 2018. I was working with VIPKid and added Magic Ears as a secondary company. They have always been an online teaching company that you could make more money with so I wanted to investigate their pay in 2021 to see if they were still competitive
Jump To: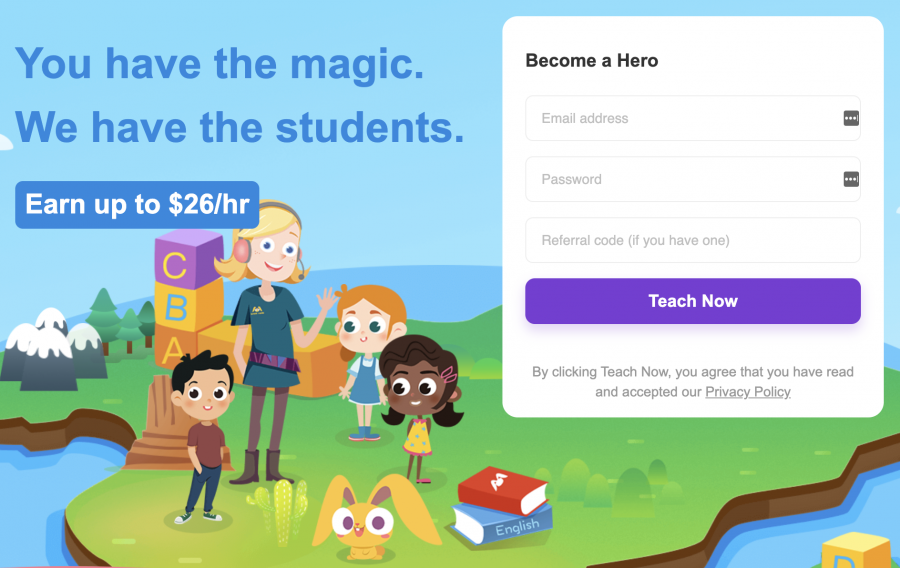 Magic Ears Base Pay
The first thing you should understand is your base pay. This is the pay that is given to you during your interview process.
Magic Ears advertises $7.50 – $10 / class based on experience and performance in your demo.
Here is a breakdown chart of the Magic Ears pay based on your qualifications when you apply: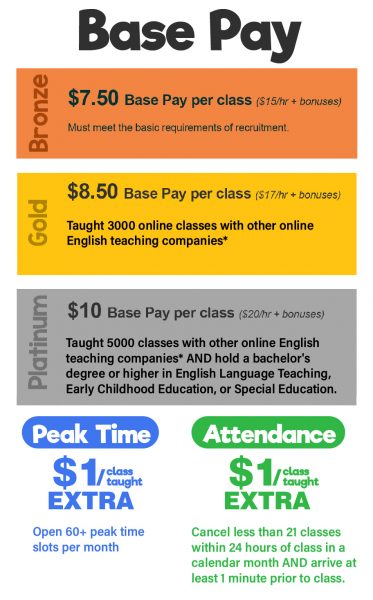 So, you can see that there are three tiers for getting hired at Magic Ears. All three tiers are based solely on the requirements in this graphic. Your demo performance or anything related to the interview process has no reflection on your base pay at Magic Ears.
I really like this approach because it really takes into account your experience, education and has a more objective feel to their decisions. If you meet their requirements for Bronze, Gold or platinum then you will get that base pay.
Most people who little or no online teaching experience will arrive at $7.50 / classs (Bronze Level) but the other tiers are possible and allows experience online teachers to be rewarded for their experience and potential educational background in teaching.
The highest base pay of $10 is very difficult and you must meet their requirements exactly. If you are applying from another online ESL company and you have taught more than 3,000 classes with that company Magic Ears will require proof of this beyond just a screenshot.
You will need to take a video of your portal to show total # of classes taught and submit it to them for verification.
After your base pay is calculated, there are two possible bonuses that you can achieve.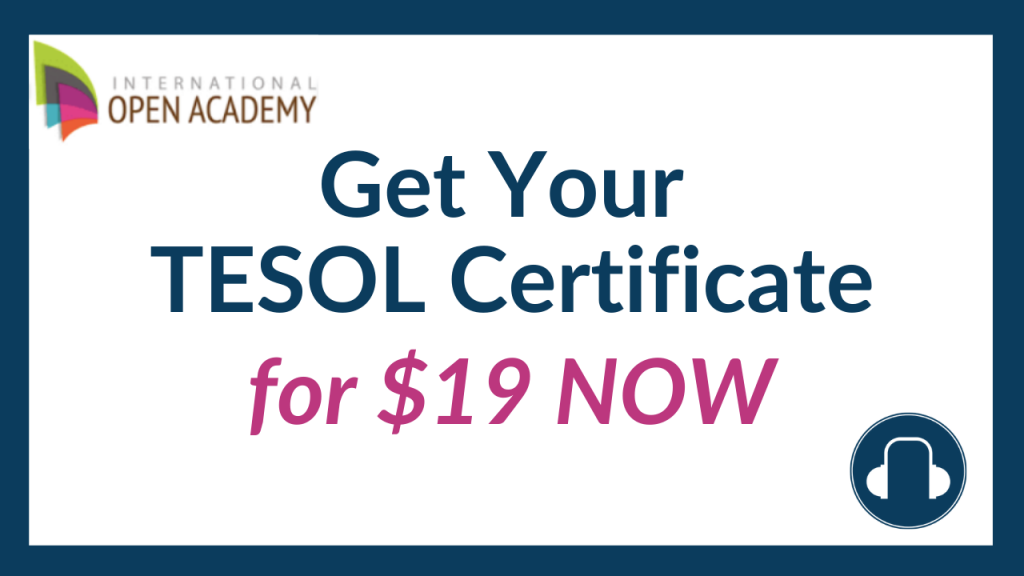 Incentive Bonus
The great thing about teaching online with companies is the opportunity to earn extra bonuses on top of your base pay. Magic Ears is no different and they have two bonuses that are available to teachers.
Peak Time Bonus
Firstly, they have a peak time bonus for opening 60 or more peak slots in a month.
You do not have to teach all these 60 classes but you must have the open and let them expire even if they are not taught. However, you will be paid $1/ class for each of those classes taught as long as they are during peak times.
Peak times at Magic Ears are:
Monday to Friday: 6:30pm – 9:00pm (Beijing Time)
Saturday & Sunday: 9:00am – 11:30am (Beijing Time & 6:30pm – 9:00pm (Beijing Time)
Although Magic Ears has available slots to teach from 9:00am – 11:30am & 5:00pm – 9:00pm, the peak time bonus only applies to peak times.
Again, the peak time bonus is $1/ class.
Attendance Bonus
Secondly, they have an attendnace bonus available when you enter the class only 1 minute before class begins for all your classes. This is a big change from previous years where you had to enter class much earlier, but now it is only 1 minute.
This bonus is: $1/ class for this incentive.
This bonus is also: $1 / class.
Magic Ears Standby Pay
Another way of increasing you base rate pay at Magic Ears is through their Standby program.
Magic Ears standby teaching is teaching a time slot that is indicated as standby on your teaching portal. These slots are only released as standby pay 24 hours in advance.
The reason why Magic Ears has the most lenient cancellation policy in the industry is due to teachers who are willing to teach standby and be available at last minute notice.
Standby pay is paid at $2/class. If you open a slot indicated as standby and DO NOT end up teaching it, either because the student doesn't show up or because it is not filled, then you are paid $5 just for being available.

Standby pay and incentives are mutually exclusive meaning that you will not be paid for both. If you are teaching a standby class then you will only receive the standby pay, not the participation and peak time incentives.
Magic Ears Pay Raise
Many online ESL companies have stopped providing raises to their teachers. VIPKid, in fact, stopped their pay raises in 2020 and newly hired teachers plus current teachers no longer have the opportunity to get a raise.
Magic Ears is different. They have kept their pay raise opportunity but aligned it with performance and ranking through a system called Peak Carrot Earnings.
Let's take a look how it works.
Firstly, the system is designed to reward teachers' performance and contribution to Magic Ears. When your contract is up for renewal, you must have reached the base threshold for peak carrots in order to apply your peak carrots towards a bonus.
The thresholds will be determined based on the ranking that you held for the majority of your contract period.

You can only receive a pay raise if you have not achieved the rank pay cap or the threshold of your current ranking during a particular contract.
Your longest held rank during your contract will be determined by the longest amount of time you spent in a rank during your contract.
Let's say you are classified as a Junior teacher with Magic Ears. If you have not hit the rank pay cap of $9.50 and you have achieved 1,000 carrots (earned by teaching classes) then you are eligible for a $0.25 base pay raise.
If you are a Senior teacher and your base pay is less than $10 and you have earned more than 2,000 carrots then you are eligible for a $0.50 pay raise.
What happens if you have achieved the base pay cap but you have earned carrots? This is where you can do a carrot cashout! (see below)
Other Income Opportunities
There are several other ways of earning money at Magic Ears in addition to base pay adjustments and incentives.
Carrot Cashouts
As stated previously based on the diagram above for pay raises, there are opportunities for exchanging your earned carrots for cash!
This can only happen if you have already achieved the base pay cap indicated on the right hand column.
Carrots can be exchanged as follows:
20 carrots = $1.
Let's look at the carrot pay raise chart again. For example, a junior teacher (who is at cap pay) has 1500 carrots, he/she can cash out 20 carrots = $1.
So, 1500 / 20 = $75!
Magic Ears Referral Bonus
You can also recommend your friends and family to work at Magic Ears.
Currently, you can earn $80/referral who successfully completes the hiring process and teaches 10 completed classes.
Magic Ears also often runs referral contests and additional incentives depending on their hiring needs.
Secondary Positions
Magic Ears also offers various types of secondary positions to its teachers. At this time, only those who have achieved the rank of Magic Master are eligible to apply for secondary positions.
Average Monthly Income
Most teachers report to earn around $1,500 – $2,000 / month by only teaching. Of course, there are other opportunities to earn above this amount if a teacher wishes. This can be done through secondary positions, referrals and, of course, teaching more classes!
The top earning teacher at Magic Ears earns over $5,000 / month!
Is Magic Ears Pay the Highest in 2021?
The short answer to this is no. There are other companies where you can make more money but no one is going to start out with any online ESL company at the top of the pay scale or earning the most incentives.
It takes time to build up to those higher amounts and a lot depends on what your base pay rate is. To ensure you are achieving the highest base pay for Magic Ears, make sure you understand what they are looking for.
Magic Ears is a company that has a lot of income opportunities and you are not stuck at your base pay forever. Even at the lowest base rate if you are committed to teaching at Magic Ears and are available during peak times, you have a lot of opportunities to rank up, earn more and earn towards the higher end of the potential pay.
I would say that Magic Ears has a starting pay that is fairly average to the industry if you do not have a lot of previous online teaching experience. However, for experienced online teachers their starting pay is certainly higher than normal.
Is it worth your time? Why not check them out and see if you like their platform!
Interested in Magic Ears?
Want to apply to another online ESL company?