Becoming a VIPKid teacher sounds like a great idea, right? If you are anything like me, the idea of using my teaching skills and work with children to be able to stay at home, travel and live a more "time rich" lifestyle was a very appealing idea. However, I had no idea how to become a VIPKid teacher nor what it really meant to be a VIPKid teacher. In this article I want to paint a picture of what a VIPKid teacher is and how you can become one in 3 easy steps.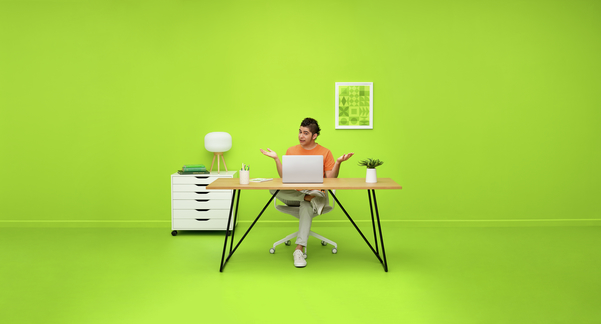 A VIPKid teacher is anyone. A VIPKid teacher could be your neighbor, your family member, one of your close friends, the local bus driver or even the pizza delivery guy.  VIPKid teachers are diverse and hold many different life situations.
VIPKid teachers are educated and mostly from North American (US or Canada). They have a passion for children, education and connecting cultures through the power of the internet. A VIPKid teacher needs to have experience with kids in any capacity whether that is traditional classroom teaching, tutoring, home schooling, volunteering, camp counseling or just working with kids in a setting where you are helping them learn, grow and develop.  You do not need to be a teacher in "real life" to be a VIPKid teacher.
VIPKid teachers come from many occupations and choose to teach for VIPKid for a variety of reasons. You will meet teachers who are stay at home moms who choose to do this before their kids wake up. You will also meet father's who are using this as a side income to their regular job. You might also find VIPKid teachers who travel full time and call themselves "digital nomads". VIPKid teachers are also real teachers in Brick & Morter schools who teach before they go to work in the morning. Many VIPKid teachers love the flexibility of this job and choose to only teach on weekends, holidays or evenings before they go to sleep.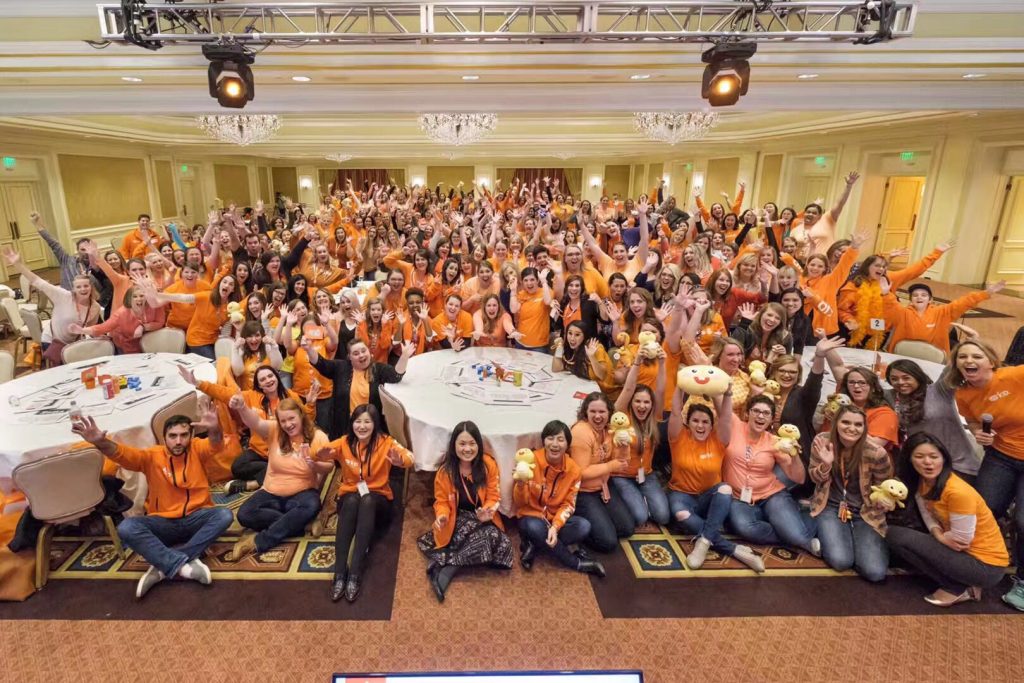 What Is The VIPKid Teacher Application Process?
You can become a VIPKid teacher in 4 easy steps.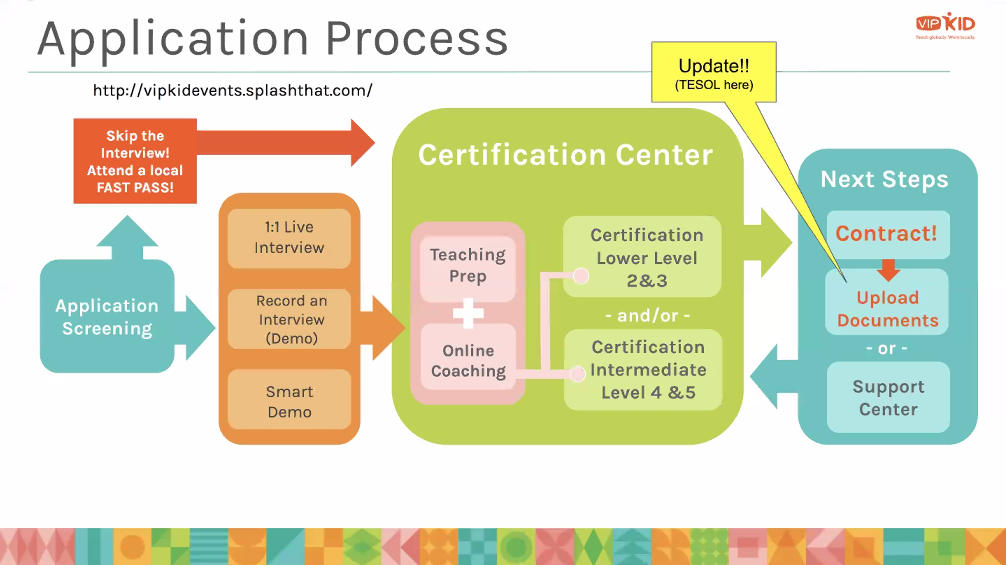 Step 1: Apply
When you apply, make sure you are using a link from someone that is going to help you. I am one of VIPKid's top hiring coaches. By signing up with my link and creating an account with this link, you will be given access to my Bootcamp Facebook group, Training Guide & Hiring Course. You will be supported throughout the entire process
Step 2: Interview
There are 4 Interview Options. VIPKid has made it so that the applicant can choose the best option for them. WIth a little preperation, there is a really easy step to pass.
a. Fast Pass Coaching Event :
You can attend a Fast Pass coaching event which are essentially VIPKid events that take place all over North American. They last 4 hours and they are in-person. You will leave with your Mock class scheduled. Essentially by attending one of these, you will bypass having to do an "Interview".
b. Smart Demo Lesson :
Probably the fastest option. This is done via your cell phone by downloading the VIPKid Teach App. You will only be able to do this on your phone. You will read and learn about 5 areas fhey are assessing you on. Then you will take a short 5 question quiz. After the quiz you will be asked to do a recording of one possible slide and then you will be able to submit it. The recording is only 2 minutes long and the whole thing probably takes 10 minutes in total.
C. Live Interview:
This can only be done on your computer. This is a great option as it gives you real practice in the classroom with a live person. The interviewer will be a Beijing staff member and you will teach a 5 minute lesson called "Me, Myself & I".
D. Recorded Demo:
This is essentially the same lesson as the Live interview but you will have to record it on your computer in the portal, which is the same place that you will schedule your Live interview.
Step 3: Certification Center
This is where you will be able to schedule a Mock class. You will have to teach a lesson for 10 minutes to a Mock Class Mentor. If you pass on the first try, you will be sent through to the final stages. However, being asked to redo is also very common. They are not looking for a perfect VIPKid teacher, but they are looking to see that you can implement the strategies and they want to make sure you are ready for real students. There is no limit to the number of times that you can redo it. Practice, watch videos, attend online coaching and do your best!
Step 4: Final Stages
Congratulations, you are on the final stages of the VIPKId process of becoming a teacher. You will need to take the VIPKid-TESOL if you do not already have a teaching certification of some kind. You will also need to submit your authorization for a background check and upload all of your documents and create your profile. The very last thing you will do after all of this is approved is sign your contract.
Do These 3 Things To Become a VIPKid Teacher
Becoming a VIPKid teacher is an exciting experience and one that is hopefully not too stressful or discouraging. Remember that they are a reputable company that is invested in helping you to become the best VIPKid teacher that you can be. Below I indicate 3 things that you should be thinking about and doing to make the most of your application and onboarding process to getting hired.
The VIPKid process to getting hired can be complicated and overwhelming. The process is simple in it's layout and design, but there are many options, possibilities and questions that are going to arise for you while you begin investigating and understanding how to apply, pass and start teaching.
It is for this reason, that before you begin anything, you find a mentor that can help. Every VIPKid teacher can refer and recruit once they are hired. VIPKid pays a generous bonus of $100 for a successful applicant referred by a teacher once they teach their 1st class. This means that if you use someone's link or apply their code, they will get $100 if you begin teaching. There are many links on the internet that are attached to a teacher so make sure you know what link you are clicking before you click. You can also apply directly on the website (t.vipkid.com.cn) and add a code later.
I am a hiring coach for VIPKid as well as a teacher, and I have been recognised by VIPKid as one of their top recruiters (top 15 in 2019) because of the high volume of people I have supported. When you click my link to apply, or add my code (TIM000003) to your account, you will be fully supported until you are a VIPKid teacher.
I offer my applicants a supportive facebook group, VIPKid Hiring Bootcamp, and will send you the password to my website: www.onlineteacherdude.com. Having the password gives you immediate access to my BootCamp Training Guide & Hiring Course. I also run weekly zoom trainings (small group) for the Mock classes.
What are you waiting for? Choose me as a mentor and get hired quickly!
The next step is obviously to fill in an application and apply etc… but I suggest that while you are applying, that you are preparing in other ways as much as possible.   For many, there is a learning curve to teaching online and it is also a learning curve for Brick & Morter teachers who are coming over from the classroom. Teaching online is different than teaching face to face and so there is some learning and practice that needs to happen before your interview and Mock class.
The things you can prepare right away to set yourself up for success are:
Lighting & Background: Make sure this is "good to go" from the beginning. Invest in taking the time to set up your lighting so that you are not casting any major shadows and that you have good lighting across your face.You do not need to achieve perfection in the lighting category but having decent lighting from the beginning is going to really set you up for success and help you sail through the interview and Mock. Your classroom background also doesn't need to be perfect from the beginning, but you should be thinking of your space and where you will be teaching. Ensure you are against a plain background where you can put up a few things like your name and a couple of decorative "educational" things. You can check out my resources where I have some free printables for your background.
Equipment: Make sure that you have a laptop or desktop computer from the beginning. You can teach from your iPad but you must do the Mock classes from your laptop or desktop computer. Make sure you also have headphones and a stable internet connection! This is the basic equipment that you need to get started. Of course, you can add more as time goes on 🙂
Watch Videos: I saw this with also a cautionary note that you don't want to get caught up in watching too many youtube videos, which can have the adverse effect of making you confused and intimidated. Choose a few videos and people to follow, especially our VIPKid brand ambassadors and learn as much as you can be listening to different people's perspectives. I have a channel called "Online Teacher Dude" and you can watch several of my hiring help and training videos. As well, if you are my referral you will have access to my video course on each stage of the application process.
Practice! : Practice the skills you are learning, whether that is in front of your mirror, with your own children, to your husband or wife or just on the computer! As much as possible, you want to be practicing using TPR, less incidental language when explaining and props. This doesn't come naturally so a little practice will go a long way! You can also use the practice room on the VIPKid portal when you schedule a Mock to practice in a real VIPKid classroom.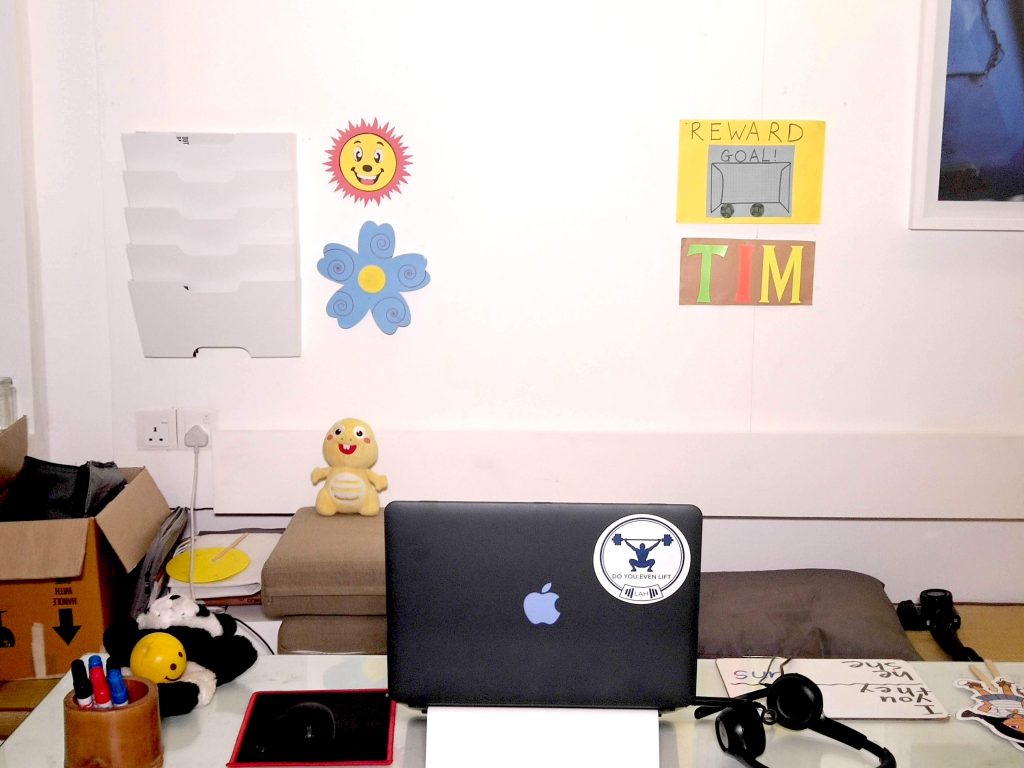 You can easily be hired and teaching with VIPKid within two weeks. This is probably the minimum amount of time it takes to get through if you are doing the minimum of the Smart Demo Lesson and passing one Mock class. The average amount of time it takes is three-four weeks and then many take months to pass through. I want to mention here that the reason why people take a long time to move through is because they are unsure of themselves and lack confidence in their ability. They feel that they need to be "perfect" and have it all together before jumping in.
This could not be further from the truth or what is expected. This is your journey and experience and my suggestion to you is to just jump in and go for it. The learning happens when you are in the classroom teaching those cute faces and adapting and changing your style to suit what works for you. Your classroom and props and equipment will also change and evolve and you don't need to have it all figured out from the first day. So, my tip here is to just jump in and go for it. You will be so thankful that you did!