Gogokid, an online ESL platform based in China, has recently changed its pay structure for its incentives and this Gogokid pay guide will help you determine how it works and everything you need to know about making money at Gogokid in 2020 and beyond. Gogokid pays North American teachers to teach Chinese children English on their platform. Teachers are able to work at home, create their own flexible schedule, and teach pre-created lessons on the Gogokid teaching platform.
Jump To:
What does Gogokid pay?
Overall, Gogokid teachers are paid, in general, higher than most other companies. The Gogokid pay is based on two categories: Service Fee + Credit Score Incentive.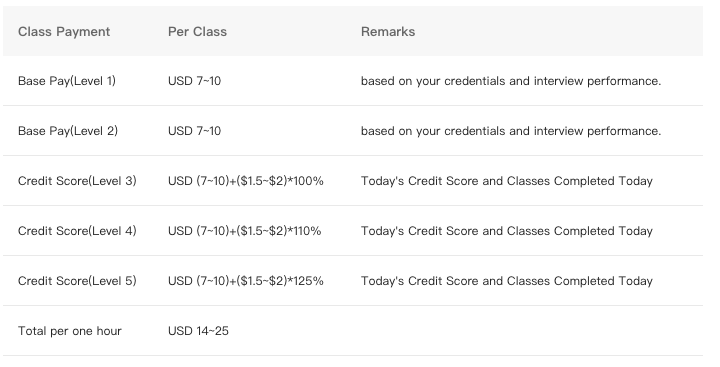 The system is designed to encourage Gogokid teachers to teach more classes and, ultimately, earn more money. All teachers will receive their Service fee (base pay) which will be established during your interview process (after your interview). Your base pay will be determined by your performance in the interview and cannot be negotiated.
Gogokid Pay Terms & Definitions
Base Pay aka Service Fee:
Your base pay, or service fee, is the amount of money assigned to you to be paid for each class you teach. This amount will never change. This amount is determined in your interview.
Credit Score Incentive:
The Gogokid credit score incentive is the amount of money that will be added to your base pay. It is determined by calculating your incentive base and multiplying that by your incentive percentage.
Incentive Base:
Your incentive base is the first number in the calculation for your credit score incentive. It is determined based on the number of classes you teach. The more classes you teach the higher your incentive base will be.
Incentive Percentage:
Your incentive percentage is the second number in your credit score incentive calculation. Your incentive percentage is based on your incentive level which is directly related to your teacher performance.
Incentive Level aka Credit Score:
Your incentive level, which is also known as your credit score, is directly connected with your incentive percentage. Refer to the chart below for further explanation. The higher your credit score level, the higher your incentive level.
Gogokid Base Pay (Service Fee)
Firstly, let's understand the Gogokid base pay rate. The base rate is also known as your service fee, which is essentially the guaranteed rate of pay that you will get for each class that you teach. The range of the Gogokid base pay is between $7.00 – $10.00 USD / class. Remember, that you can teach two classes in an hour, so that works out to $14.00 – $20.00/hour.
On their website, they state:
Teach English Online
Earn $14–$25/hour
This is stated this way because if you got the maximum base rate, which is $10, you would make $20 / hour. The highest credit score incentive is 125% so you could potentially make $25/hour.
Gogokid Credit Score Incentive
The Gogokid credit score incentive is what is added on top of your base pay. It is determined based on the # of classes you teach and your performance. Your credit score incentive is determined each day whereas your base pay remains the same. The day's credit score incentive is based on a day in Beijing Time. Keep this in mind so if you are teaching in the US, your evening classes would not count towards the "day" that is being calculated.
Your Credit Score Incentive is determined by this calculation:

Ways to increase your credit score incentive:
1. Teach More Classes (increase your incentive base)
This seems obvious, right? Yes! This is easy to understand. The more classes you teach, the higher your incentive base will become.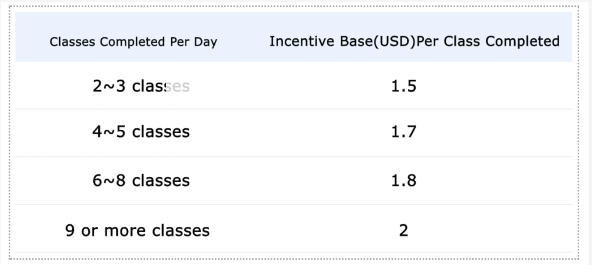 As you can see, to achieve the highest incentive base per class, you would need to teach 9 or more classes in 1 day. If you taught 7 classes in a day, your incentive base would be $1.80 / class completed. This is the first number used in the formula to determine your credit score incentive.
2. Maintain a Higher Standard of Teaching Performance
In addition to teaching lots of classes, you will want to maintain a high standard of teaching performance. The incentive level that you are on is based on your teaching performance. This is also known as your credit score. Your credit score is determined by a number of factors.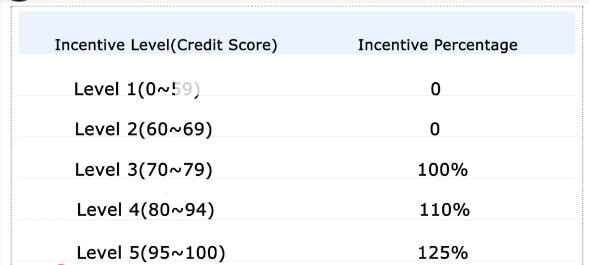 If you are on Level 4, which would be a credit score of 80-94, then you would receive 110% as an incentive percentage.
How does my credit score increase or decrease?
1. Earn more 5 star evaluations
This means giving great classes, with lots of energy and dedication! Here are some tips for earning 5 star evaluations:
be prepared for the lesson
use props and rewards
teach the full 25 minutes
encourage lots of student output
provide thorough and timely feedback
2. Collect fewer improper behaviors
Improper behaviors are things like:
Teacher No-Shows
Teacher Cancellations
Teacher IT
Parent feedback < 4 stars
Gogokid Payment Sample
Let's look at an example of what someone's payment might be for a given day teaching with Gogokid.
Let's meet Teacher Haley. Haley is a new teacher but she has reached Level 4 with a credit score of 85 on the credit score incentive level. She has a base rate of $8.50/class. Haley also teaches a consistent 6 classes / day.

Gogokid Pay FAQ
What currency does Gogokid pay in?
Gogokid pays in US dollars.
How does Gogokid pay?
Gogokid pays by the 15th of each month through Paypal.
What about taxes?
As a Gogokid teacher, you are an independent contractor, not an employee. You are fully responsible for filing your own taxes based on the income you make. It will be important for you to set aside an amount of your pay for taxes each year. Also, it is important to note that Gogokid does not issue a 1099 on your behalf.
Check out my Gogokid hiring guide: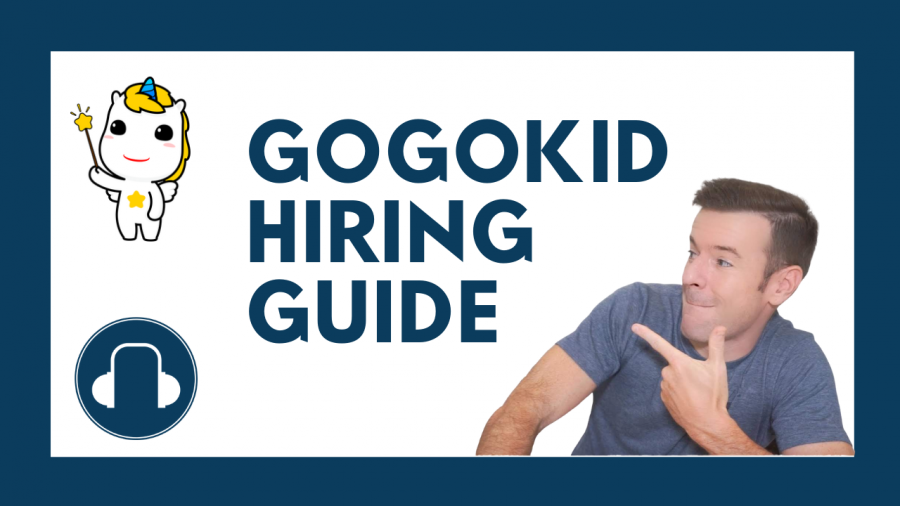 Final Thoughts
Well, that was confusing! I hope that you can at least refer to this Gogokid pay guide to help you answer any questions. Of course, reading this through is going to be confusing because of the similarity in so many of their terms and the complexity of the calculation.
We have seen similar changes to other companies pay structures, like VIPKid, in recent months and it seems to be an incentive to reward loyalty to one company. A lot of components go into the Gogokid incentive pay and it is not entirely simple to understand.
The bottom line is that your incentive is based on two factors: how many classes you teach and how high your credit score is. Teach more classes and earn more money!
What. do you think? Do you understand it? I would love to know! Leave me a comment below if you have thoughts, feelings or questions.
Have a question?
Pin It!