My VIPKid Salary has steadily grown over the last 2 years. As an online ESL teacher I have the freedom and flexibility to work at home and gain an income wherever there is a wifi connection. VIPKid has proven to be a great work at home job and I now make a full time income teaching children in China and training teachers to get hired. There are lots of opportunities to increase your pay, and your income with online esl teaching. The exciting part of this industry is its potential for growth and opportunity. There are lots of great ways for you to brand yourself as a teacher and find ways to increase your income.
My best VIPKid pay cheque was from June 2019. This was primarily from recruiting bonuses and referral pay.

VIPKid Salary & Pay Explained
There are two ways to make money on teaching classes with VIPKid. Your VIPKid salary is determined by your base rate and your finished class incentives. Your base rate is determined by your qualifications and interview performance. Your VIPKid base rate will be between $7 – $9 / class. Keep in mind that you can teach two classes in 1 hour.
VIPKid Base Pay:
You will receive a base rate of pay that is for each 25 minute class. The pay will be between $7 – $9 / class which is $14 – $18 / hour if you teach two classes in 1 hour. Your base rate can only increase after every two contracts if you fulfill the VIPKid raise requirements.
The VIPKid Pay is a great way to work at home, part-time or full-time, and make an income while being able to have a flexible schedule that allows you to do a lot more with your time.
In addition to your base pay, you will be able to make an incentive pay on top of your base pay based on how many classes you have taught in a given month and the amount of total classes you have taught in total with the company.
VIPKid New Incentive Structure:
The new VIPKid incentive structure is a tiered system that rewards teachers who teach more classes. The more classes you teach, the higher your tier and the more incentives you will get. This video explains the new VIPKid incentive structure:
This chart explains the incentive structure and how much you can make based on number of classes taught and what Tier you are on. The general trend with online ESL companies has moved towards rewarding teachers for teaching more classes with the given company. They are incentivizing teaching more classes and having more commitment to teach during their availability.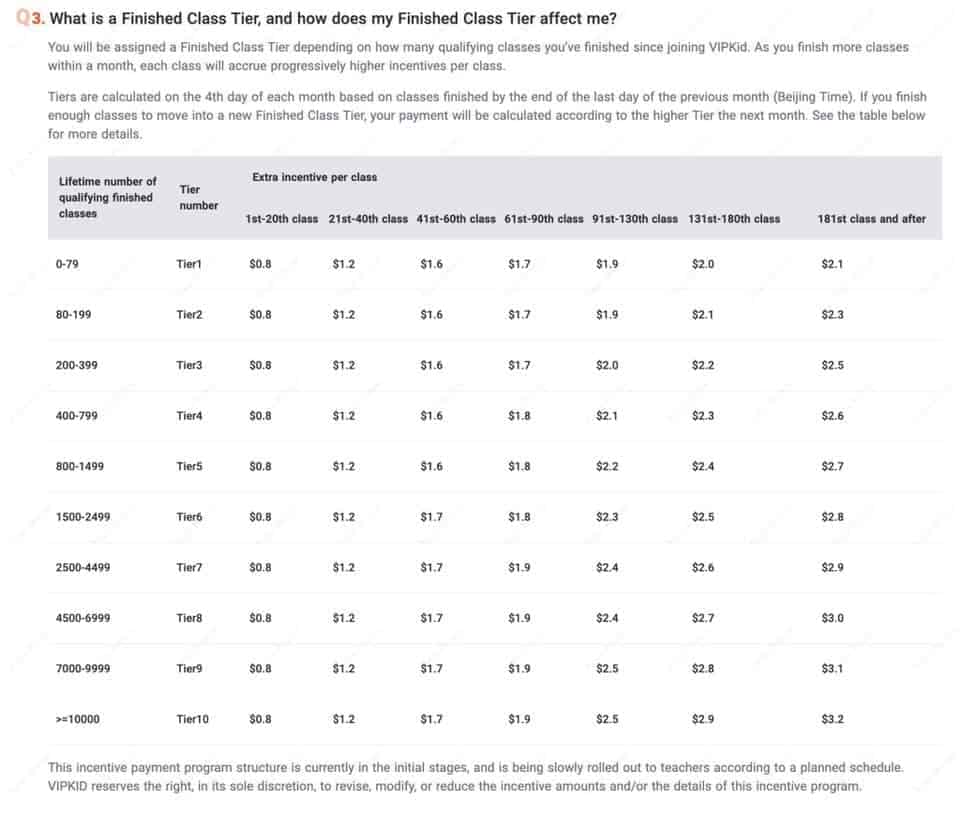 Sample VIPKid Pay:
Keep in mind that everyone's pay is different and your incentives are based on your tier and how many classes you taught in the month.
A Sample VIPKid pay might look like this. This teacher makes $7.90/class and is on Tier 2 having taught 132 classes in January. This would be the amount of money they would make on their paycheck.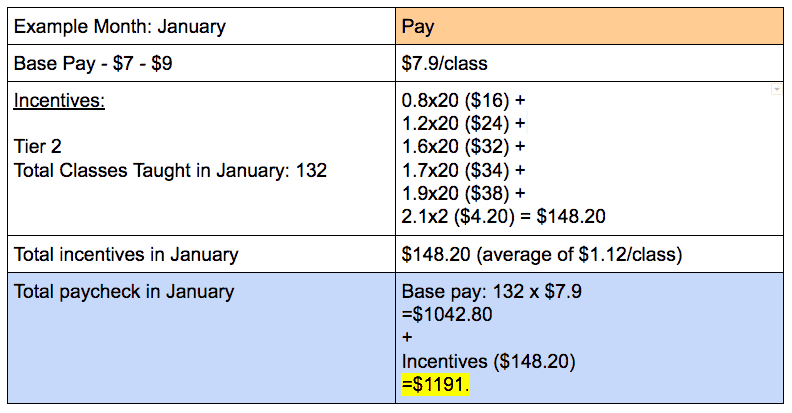 VIPKid Salary Year 1 (2018)
My salary from Year 1 of teaching with VIPKid was from January – December of 2018. I referred a few friends and made some contacts through my new youtube channel that turned into a few referral payments but the bulk of my VIPKid salary came from just teaching classes. I taught an average of 7 classes / day, which is 3.5 hours. So, my average paycheck each month was $2,000. I usually taught around 180 classes / month to achieve this.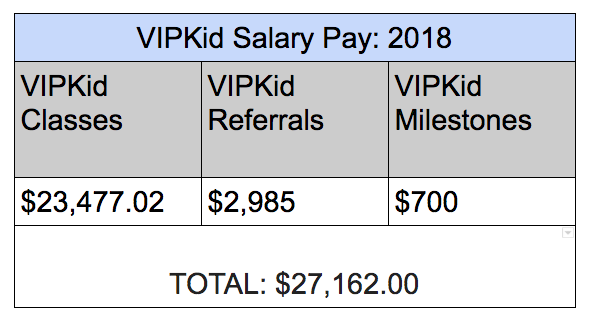 VIPKid Salary Year 2 (2019)
My salary from Year 2 of teaching with VIPKid was from January – December of 2019. I started to scale my recruiting business but focusing more on it and working on online platforms that would increase my influence as a recruiter and as you can see from the chart below, I made most of my income from recruiting and the milestones that were in place.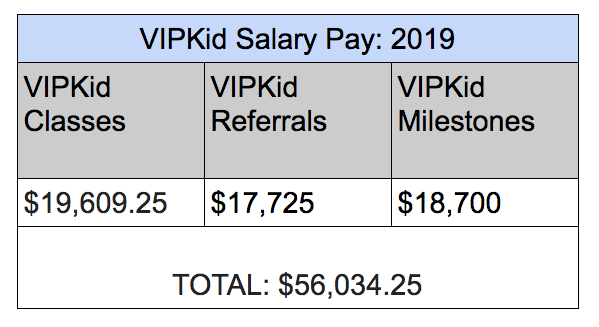 My VIPKid Salary Goals for Year 3 (2020)
I am excited to continue helping teachers get hired to teach online. This is one of the things I enjoy most about this job. I love being that bridge for someone to achieve freedom in their life and more increase more flexiblity in their schedule. Please check my website for more information on my coaching, and opportunities to learn and grow in your business.
How to increase your VIPKid Salary
1. Teach Short Notice
I think one of the greatest kept VIPKid secrets (shh! Don't tell anyone) is the ability and opportunity to teach Short Notice classes with VIPKid. This has increased my teaching pay check by around $300 each month. When you are booked for a class that is short notice, you receive an extra $2/class for that booking.
2. Recruit / Refer
Lots of online ESL companies, VIPKid included, pays a referral bonus for teachers to help their friends and family get hired and teach online. As of March 2020, the referral bonus for a teacher is $100. That means if you help someone get hired and they teach their first class, you will get $100!
Please signup for my mailing list if you would like to learn more ways to brand yourself as an online teacher and get some recruiting tips!
3. Add Hours / Availability
I think that one of the best ways of increasing your salary and pay is to add hours and availability. Some people are constrained by the number of hours they are able to open on the platform but if you are able to open more, consider teaching off-peak hours and odd times that other teachers are not normally teaching. The VIPKid hours are from 8:30a – 10:00pm Beijing Time.
Want to work for VIPKid?
Joining VIPKid will be the best decision you make if you are looking for a work at home job, a job that allows you to teach and travel or a job that you want to supplement your income.
Further Questions?
Please email me: [email protected] if you would like more information or if you have applied and not heard from Tim with the password / access to hiring coaching and support.

Jump over to the Online Coaching page for information on how to get supported!
Pin it!