The new VIPKid incentive pay is based on a completed class structure. Essentially, the more classes you teach, the more incentive pay you can make. Most online ESL companies want you to teach more for them and so they are incentivizing you to be faithful to them and give them most of your available slots. VIPKid is rewarding teachers for teaching more classes.
What is the new VIPKid Incentive Pay?
VIPKid has always had a very standard, simple to understand incentive pay. The VIPKid incentive pay used to consist of a $1 participation and $1 finished classes incentive. VIPKid teachers were able to earn $2 / class for each of those incentives. In December 2019, the VIPKid incentive program changed for new teachers only.
Current teachers, as of May 2020, will not be on the new incentive program. Current teachers will still earn the participation and finished class incentive of $2/ class. The new VIPKid incentive pay is going to give teachers who teach a lot of classes more money and for those that don't teach a lot of classes, it will take longer to achieve a higher incentive pay.
What about my VIPKid base rate pay?
Your VIPKid pay/salary is a base rate per class that all teachers receive automatically. Your base rate is established after your VIPKid interview. Your pay will be your base pay plus your incentives and any other money earned that month.
VIPKid Incentive Pay Chart
(aka Finished Class Tier)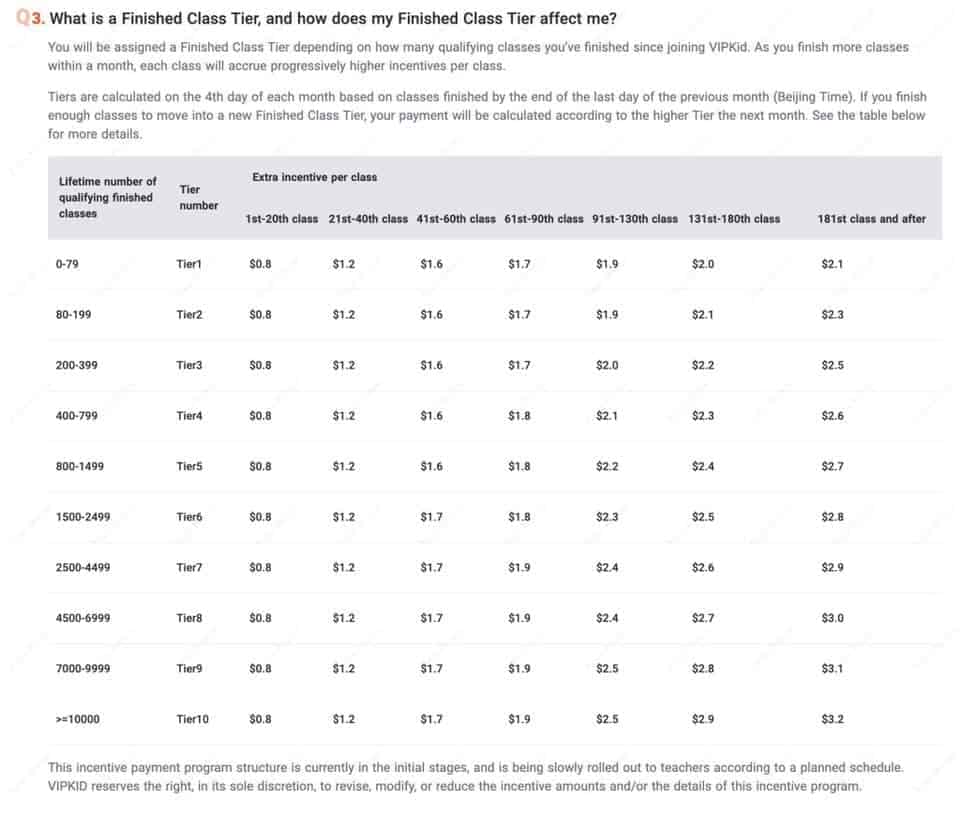 How does the VIPKid incentive structure work?
Your Tier: As of December 2019, All new teachers will either start on Tier 1 or Tier 2. This will dictate how much you will receive for each bracket of classes you teach. Your tier is also dictated by how many classes you have taught. The more classes you teach, the faster you will climb into the next Tier. For example, someone who has a lifetime total number of taught classes of 500 would be on Tier 4.
Extra Incentives per Class: After you know what Tier you are on, you can see how much incentive you are paid for your taught classes. If you on Tier 4, you are paid:
$0.80 for classes 1-20
$1.20 for classes 21-40
$1.60 for classes 41-60
and so on…
This can be confusing, so let's look at a sample pay.
Sample VIPKid Incentive Pay
In this VIPKid incentive pay sample, the teacher is making a base pay of $7.50 / class and is on Tier 2 because they have taught 132 classes in total.
They get a different amount for each bracket of taught classes (refer to diagram above) and the total incentives are added to the total base pay for a total paycheck amount of $1193.20.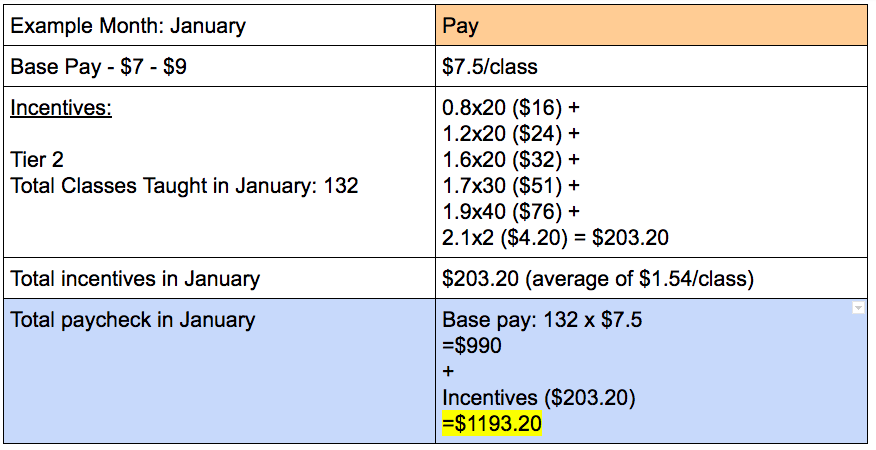 Here is an incentive payment calculator that you can use to help calculate your own incentives for the month or potential incentives based on the numbers you put into the spreadsheet.
Just make a copy of the document and then it is yours to use!
A great way to get PAID by VIPKid:
Have you heard of Payoneer? Payoneer is a leading global solution for our global economy allowing you to transfer and receive global income. You can also get $35 once you accumulate $1,000 in your account. This is a great banking solution because you can also get a debit card with your account and use Payoneer as your online teaching bank account! Sign up below: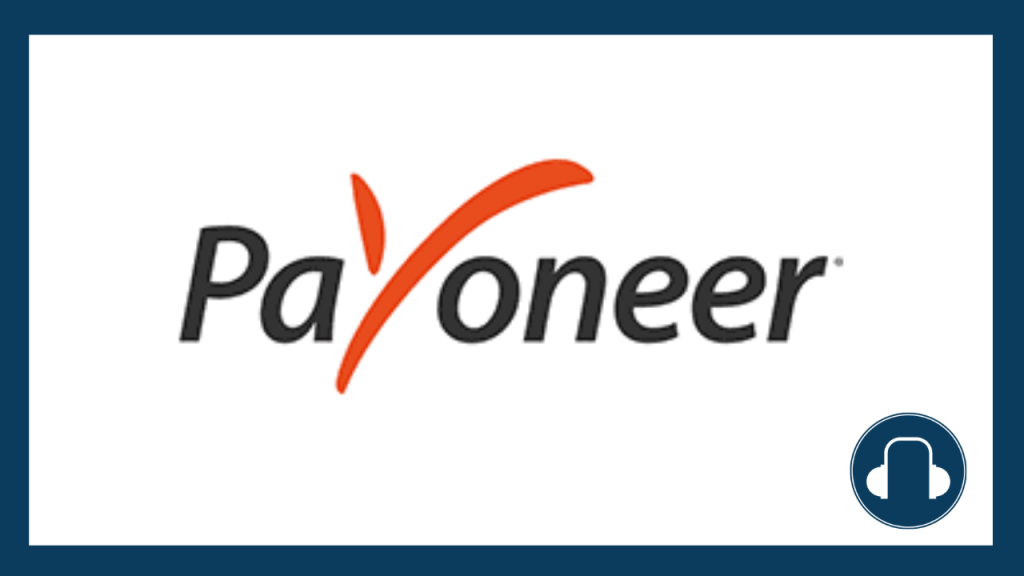 Other VIPKid Incentives:
Trial Class Conversions:
VIPKid pays $5 / student who signs up after taking your class. This only applies to trial students who are taking a free class before signing up. It is important to give great classes to these students and let them know what a great platform VIPKid is to learn English.
Use props, rewards to ensure that the student is having fun! There is less emphasis on finishing all of the slides and rather a focus on helping them to feel successful in the class and have a good time speaking English with you.
VIPKid Referral Program:
The VIPKid referral program is a great way for teachers to make money by recommending their friends and family to teach for VIPKid. Currently, VIPKid pays $100 for each teacher referred once they pass the entire VIPKid application process and teach their 1st class. The teacher will need to use your referral link or add your code before the demo lesson.
Other VIPKid Incentives:
From time to time, VIPKid has other incentives such as the PPT incentive, Activity incentive, and Booking Request incentives. To find out more about these incentives, check the VIPKid weekly updates and also the VIPKid portal to learn more.
Looking for another company?
There are lots of options in the online teaching industry and you can find another company that pays better or can supplement your current income. Check out these other companies to find ways to diversify your online teaching income!
Need a VIPKid question answered?
Pin It!