If you're considering switching your traditional teaching experience to become an online teacher and you're not sure where to start, this article will help you kickstart the journey with your online English teaching resume.
Polishing the necessary skills required for online teaching can be daunting and time-consuming at first. Many teachers who have extensive experience in traditional teaching do not have a strong understanding of how to showcase their strengths and skillsets online.
In this article, I'll provide you with tips and tricks on how to prepare a killer resume for online teaching with a sample for inspiration.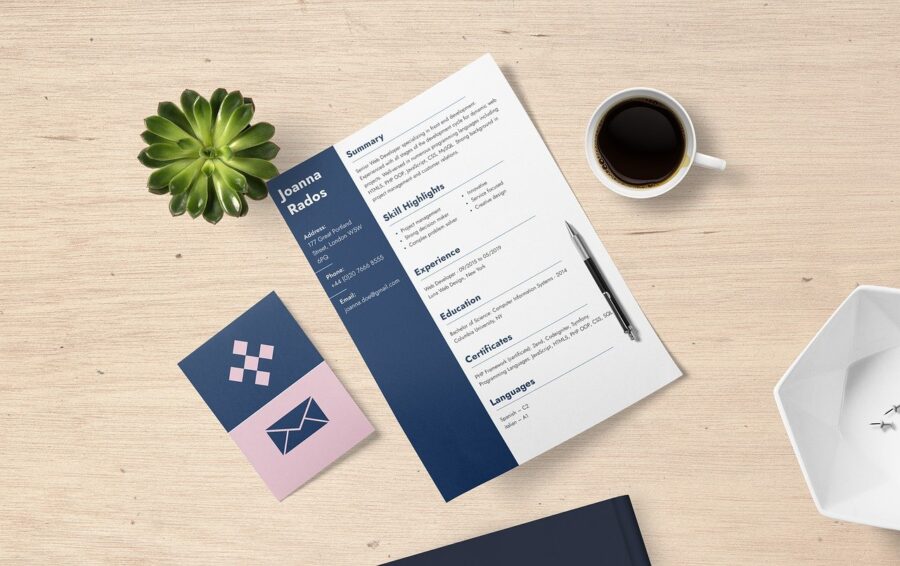 What is the difference between an online teaching resume and a normal resume?
An online teaching resume is a document used to apply for a position as an online teacher. Even if you're new to the field, an entry-level online teaching resume can include internships, previous work experiences, certificates, and awards that may have provided you with skills that are transferable to an online teaching career.
Your work and educational experiences can demonstrate your ability to adapt to a new job role and show potential employers if you are a good fit, especially if you're going to be teaching virtually.
Your knowledge of online materials is taken heavily into account as well. Are you well-versed with the various features of Zoom, Google Classroom, Skype and other online platforms?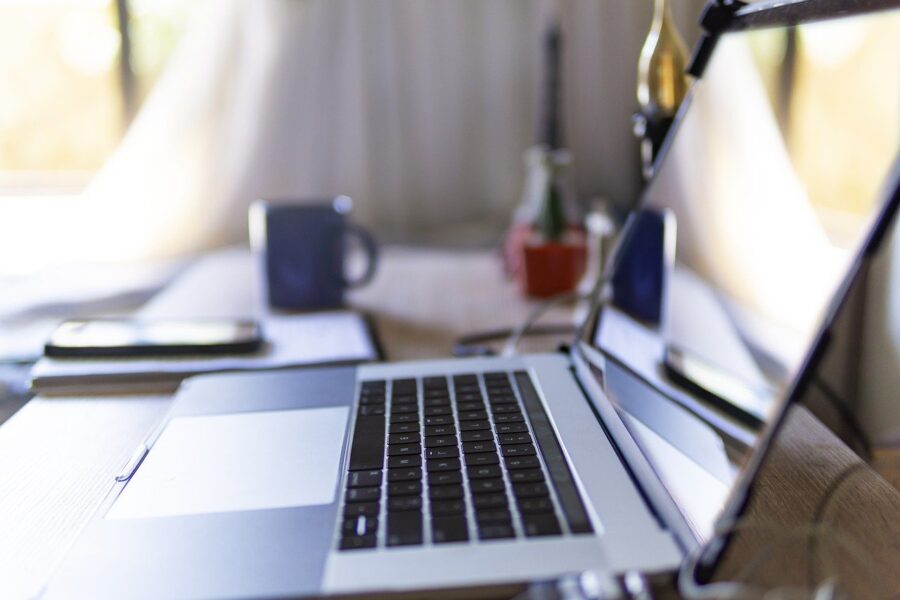 How comfortable are you being in front of a camera? Can you adapt quickly to specific programs used for online teaching? Your abililty to handle technology is important to showcase in your online teaching resume.
Being an expert in communication tools, having an adaptable attitude and having the ability to translate traditional methodology to the virtual classroom environment will be key highlights in your resume.
It's important to note that traditional classroom instruction and online instruction are mostly the same. The only difference is that a teacher must adopt a different teaching attitude for remote teaching, as well as a set of skills that require you to be an expert at using the tools of
What is the objective of your resume?
An objective statement is essential to include in your resume because it can summarise your skills, work experience, and career goals in a concise manner.
Having a strong objective statement will help employers quickly identify your resume among thousands of other resumes.
So, make sure you're able to grasp their attention with a strong opening note so that they are more open to reading the rest of your resume.
What should your online English teaching resume include to stand out?
Teaching Materials
Showcasing your equipment can be critical when drafting a resume for online teaching. Jot down the model of your computer/laptop, memory, operating system, processing speed, and so on.
If your device has an in-built webcam or you're using an external webcam, state that in as well. One very important tool is having a quality headset–include the name and model of it.
Having a stable internet connection is essential when it comes to online teaching. In fact, some companies will ask you to display your internet connection and speed, so it is best have that detailed on your online teaching resume. You can also run a speed test to see how fast your connection is and include the results on your resume as well.
Professional Headshot
Most hiring companies prefer it if they see a headshot of you that is professional, clean and that you appear friendly. This can be a good indication of you knowing basic photography angles, lighting and creating a positive image for you and your online teaching career.
A good tip is to keep your appearance simple–a tidy outlook, warm expression and a genuine smile.
Teaching Experience and Skills
List your most relevant work experiences, including each employer, job title and responsibilities, and dates of employment. Showing your work experiences can help employers understand what skills and qualifications you have. In this section, you can also include any relevant volunteer work or internships.
Another priority in this section is your professional skills. List your degrees, certifications, and other formal training programs you've completed, beginning with the most recent.
If you have a TEFL or TESOL certification, this is where you want to highlight them as it will truly be an asset. You may also hold specific licenses and certifications in areas related to education or the classroom–state them in this section as well!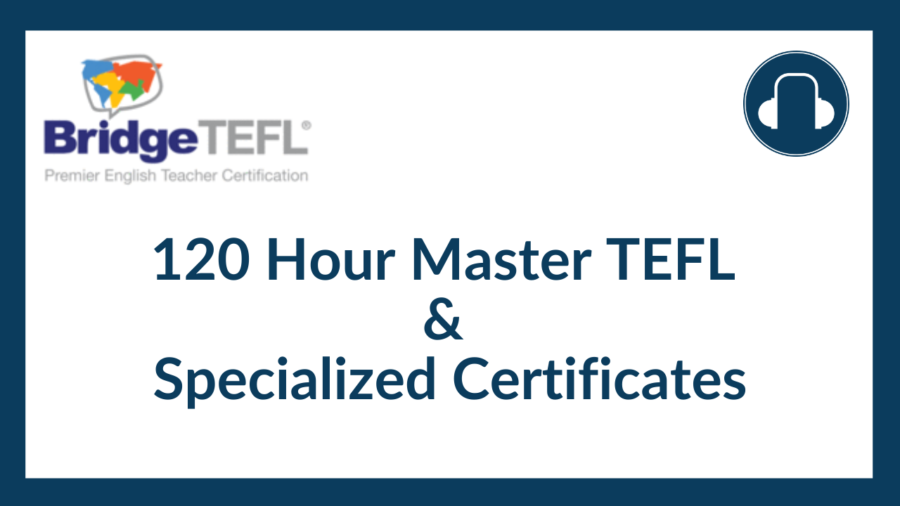 If you have yet to attain your TEFL or TESOL certification, check out the link here to get started.
Other Relevant Skills
To secure job interviews and succeed in the field, you will need to include a different set of skills in your online English teaching resume, neatly blended with traditional teaching methodology.
Some are about teaching methodology, while others are about online communication.
If you have prior experience as a customer consultant or computer specialist, be sure to highlight them as the same skills can apply to online teaching too!
If you're fluent in foreign languages such as Mandarin, you definitely want to state it on your resume too!
What is the best format to display my resume?
Now that you know the different sections that you should prioritise and highlight in your resume, it's time to put them all together in an appropriate format to best showcase it when applying for online teaching jobs.
Keep the resume clean, simple and readable. In general:
Use readable fonts such as Times New Roman, Arial or Calibri
Make sure the colour of the font is black but if you choose to play with colours, keep it to two colours max
Have headings and subheadings with necessary formats i.e using bold or italics
Have spacings for each section as it will help provide a more polished outlook
Avoid abbreviations as not everyone will know terms that you are familiar with
Use bullet points wherever necessary to break long sentences or when highlighting achievements, skills and past experiences
Utilise the right keywords depending on what traits and skills employers are looking for
Make sure to proofread your resume (more than once), especially if you are applying to multiple jobs to revise your statements
What skills should a teacher list on a resume?
Many online teaching companies are out screen through resumes with varying work experiences and talents.
To help make sure your resume stands out, I've listed down some skills that you may possess (either from your previous work experiences or training) that companies are keeping an eye out for.
Interpersonal skills
The ability to guide and navigate interactive discussions with your students
Providing feedback in a timely manner
Encouraging, honest and responsive
Classroom Management
Regularly monitor and evaluate the class performance
Assist with presentations
Begin providing support services to your students
Organization
Able to present clear learning outcomes, objectives and expectations
The organisation of class materials and lesson plans
Provide a variety of teaching resources
Understand the usage of technology in a classroom
Above are just some of the skills that you can list down (in your own words and experiences) but use it as a guideline when listing down skills in your online teaching resume.
Sample Teaching English Online Resume Template
Check out a sample of an online teaching resume that you can refer to so that you can start applying for your next job!
Simply click the resume image below to be taken to Canva to start using this one as a template.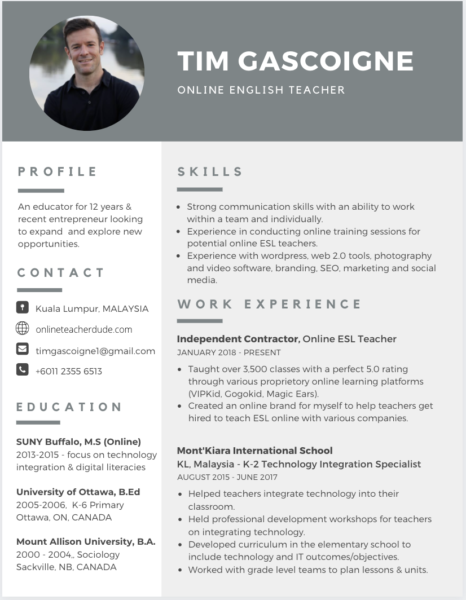 Not Sure How to Start Teaching English Online?
If you need help in kickstarting your ESL journey and want an expert to guide you on teaching online, I've created the Ultimate Free Course to Teaching ESL Online!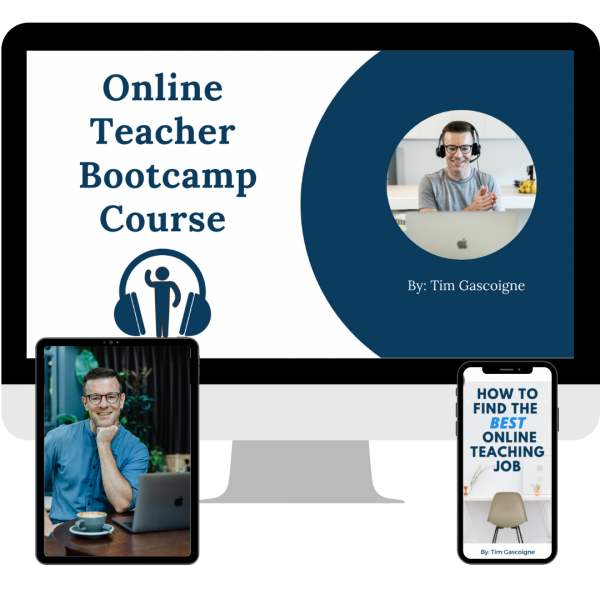 This free course will help you navigate the online ESL teaching industry and give you the tools you have been looking for to be successful
There is a lot of information online but this free course lays it out in a straightforward guide to help you get started and find success in this incredible industry.
More relevant articles!
Pin it!