The VIPKid hours and teaching times are important to understand once you are hired and ready to open your teaching slots. The VIPKid hours are, officially, 8:30am – 10:00pm Beijing Time, Monday to Sunday, 365 days a year. Continue reading to learn when the best VIPKid teaching hours are and some conversion charts for your time zones. Once you go through the VIPKid application process, you will be able to take workshops and learn how to create the best schedule to ensure bookings and success on the platform.
Actual VIPKid Hours
VIPKid Hours Beijing Time
VIPKid is open from 8:30 – 10:00pm in Beijing Time. All VIPKid hours are based off of Beijing Time. When you apply to VIPKid, you will be asked to enter your time zone. This will convert all times to your time zone, so when you are booking your demo, mock class, workshops, and opening teaching slots, you will always know that it is showing in your time zone. If you move to a different time zone while in the VIPKid application process, make sure you change it in your portal.
In one week, there are 189 available teaching slots to get bookings but you will not necessarily be able to fill them all (Nor should you want to!). There are a number of reasons why certain times won't fill and why others will. One of the main reasons for high booking rates and low booking rates have to do with VIPKid peak hours and off peak hours.
VIPKid peak hours refer to those hours during peak time slots when students can take classes. For VIPKid, peak hours are 7:00pm – 9:00pm daily. Off peak hours are any hours outside of those peak hours when students can book classes.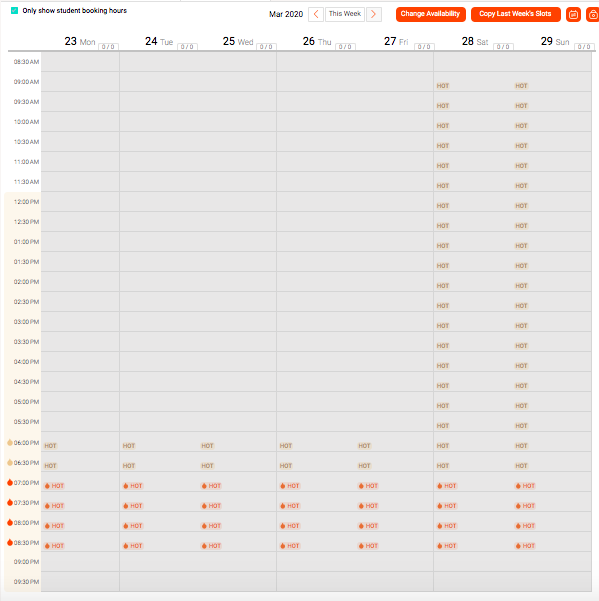 VIPKid Hours with Time Zone Charts:
You will want to know what hours you might be teaching, depending on your time zone. The chart below will outline VIPKid hours for Beijing time (aka BJT), UK time, Eastern time, Central time, Mountain time, Pacific time & Hawaii time.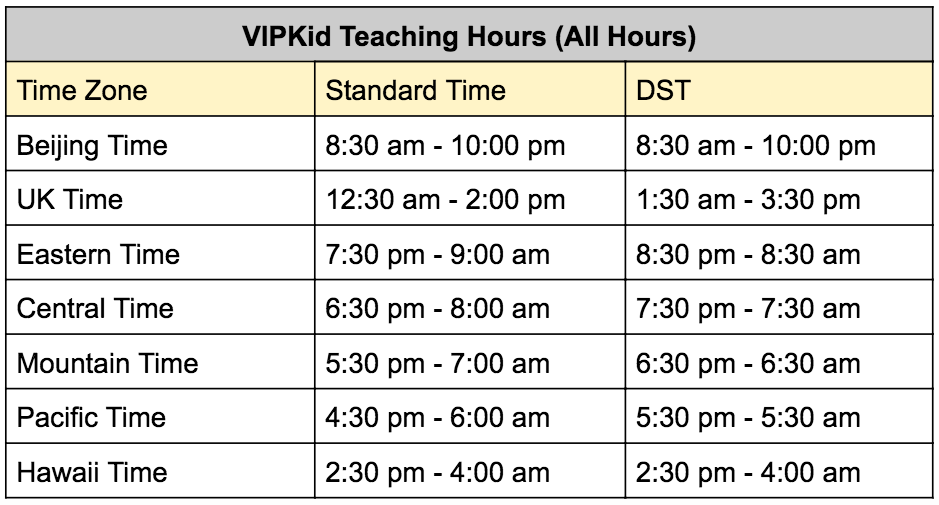 VIPKid Peak Hours
When students are in school during the normal school year, they are generally not available for classes while they are in school. VIPKid is, primarily, an after school "extra" tutoring class and, therefore, the bulk of our students are taking their VIPKid classes when they get home from school. These hours can vary but generally speaking, your most likely to get booked after 5:00pm, Beijing Time. VIPKid has established peak hours as 7:00pm – 9:00pm Beijing Time, so it is important, especially as a new teacher, that you are available during these times at a minimum.
VIPKid Peak Hours Chart
This VIPKid peak hours chart will help explain the best VIPKid teaching hours to ensure bookings when you are a VIPKid teacher.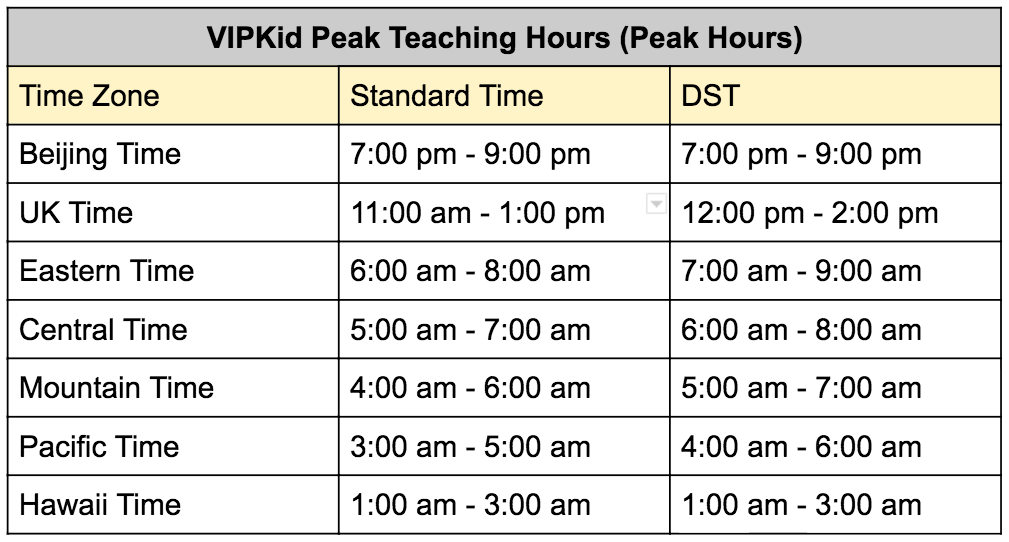 VIPKid Hours FAQ
Are there a minimum or maximum hours to teach?
The wonderful aspect of teaching with VIPKid is that there are no minimum hours required. This means that you can teach as little or as much as you want! If you don't want to teach at all, you don't have to open slots. If you want to take a last minute holiday, you can! You don't have to let them know anything. You are 100% in control of your schedule and you control when you teach and when you don't. Not bad, right?
What are the best hours to teach?
There are no "best" hours to teach but there are hours that are more likely to book. Of course, you should be opening peak times initially but you can easily get booked off peak hours before 7-9p BJT. Remember that most kids will get home from school after 4pm BJT, so try opening up off peak slots.
Summer holidays, Chinese new year, public holidays and weekends are also great time periods to get those extra hours in. You can book the hours that students are normally in school, because they will be at home, mostly, during these times. The VIPKid summer hours are very similar to students in North America. Generally speaking, the students have July & August off of school so this is a great time to add hours if you can.
What does an average VIPKid teaching schedule look like?
This is a difficult question to answer. However, as an average, I would guess that most teachers are teaching between 4-8 classes per day. Due to the fact that this is a very early morning position for many and that the last available slot is 10p BJT, most teachers are not teaching more than around 8 / day. That being said, many VIPKid teachers are teaching more and it is possible to make this a full time job by teaching more hours and opening up your schedule wider.
Can I take time off from VIPKid teaching?
Yes, you can absolutely take time off from teaching with VIPKid at any time. It is best to let the parents of your regular students know that you will be away and not teaching and you can do this through the feedback, the classroom chatbox or during class time! You can also indicate this in the booking portal by selecting the dates you will not be available – this will also let parents know that you are not available.
Does VIPKid observe Daylight Savings Time?
China does not have Daylight savings time like the rest of the world, or like most of the world. So, it is important to note that the VIPKid teaching times do not change when Daylight savings time. You will need to adjust your clocks and understand how your teaching hours will change accordingly if you want to teach the same blocks of time.
Updates from China's Ministry of Education
1. Update to 9pm – 10pm Slots:
According to the Ministry of Education in China, beginning on November 1st, 2019, VIPKid will no longer be allowing Major Course or Supplementary course students to take VIPKid classes between 9pm – 10pm BJT (Beijing Time). Trial students can still book during these times and some older students or higher level students can also book these time slots (subject to change).
2. Back to Back bookings:
Students located in Mainland China are no longer able to book back-to-back 25-minute classes. This does not apply to Level 7 and 8 50 minute classes, which take up two teaching slots on your schedule. If students liveoutside of China, they are still able to book back to back slots
3. Update to 50 minute classes:
All 50 minute classes (ie: Level 7 & 8), will be required to have a 10 minute break at the :25 minute mark. This will make the class go from 0 – 25:00 and then 35:00 – 58:00.
Want to know more? Want to work for VIPKid?
Joining VIPKid will be the best decision you make if you are looking for a work at home job, a job that allows you to teach and travel or a job that you want to supplement your income.
Further Questions?
Please email me: [email protected] if you would like more information or if you have applied and not heard from Tim with the password / access to hiring coaching and support.

Jump over to the Online Coaching page for information on how to get supported!
Pin it!