Important Updates from Zebra English:
Due to the new Chinese regulations on foreign teachers being able to teach Chinese students online, Zebra English has made the following announcement:
We are really sorry to inform you that, being influenced by recent policies, we will not be able to recruit any new teachers.
Existed regular students and their classes will not be influenced and the salary will be paid to teachers as usual.
Zebra English is no longer recruiting new teachers but current teachers will be able to teach their students until class packages are run out.
If you are looking for non-Chinese ESL companies, check out this page which has some options for you.
Overview & Highlights
newer company in the online ESL industry
a company committed to hiring quality teachers
earn up to $24/hour at home
wide range of hours available
can teach regular students long-term
you can keep a regular schedule
70% of hot spots booked for each teacher
parent feedback is simple to write
great tech support in the classroom
uses mostly Email for communication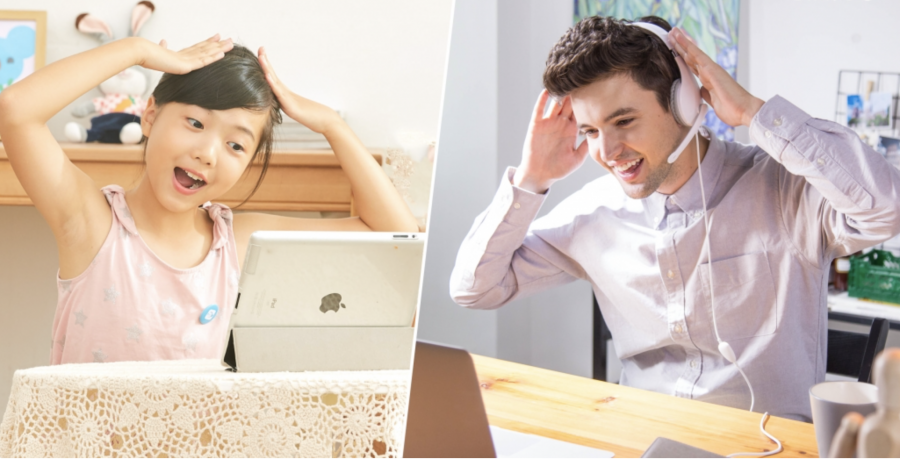 About Zebra English
Zebra English is a newer, emerging company in the online ESL industry. They have a student population of over 450,000 and they are looking to hire qualified teachers who are committed to online ESL education. Teaching English with Zebra English is a rewarding experience because of their potential for growth and commitment to teacher development.
This is directly from their website (www.zebraenglish.com)
Funded by Tencent, and produced by Yuanfudao, the leading online education company in China, ZebraEnglish is a well-known English education platform in China. Our teachers focus on communicating with students to ensure they have mastered the lessons they have already learned on our APP. Our unique online platform does the heavy lifting by teaching grammar, phonics, vocabulary, and sentence structures. Our vision is to provide our teachers with the most advanced technologies and educational tools so they can guide our students toward outstanding English learning outcomes and prepare them for a globalized future.
Zebra English Requirements
Teaching Requirements:
Legally allowed to work in the US or Canada
Speak English at a native-speaking level
Bachelors degree or higher
TESOL/TEFL certification
K-12 teaching experience (preferred)
Willing to teach long-term students
Tech Requirements:
Desktop computer or laptop (not phone or tablet compatible)
OS Windows 7 (or higher), Mac 10.10 (or higher)
4GB Ram
Internet Speed: 20mbps minimum
Headset with microphone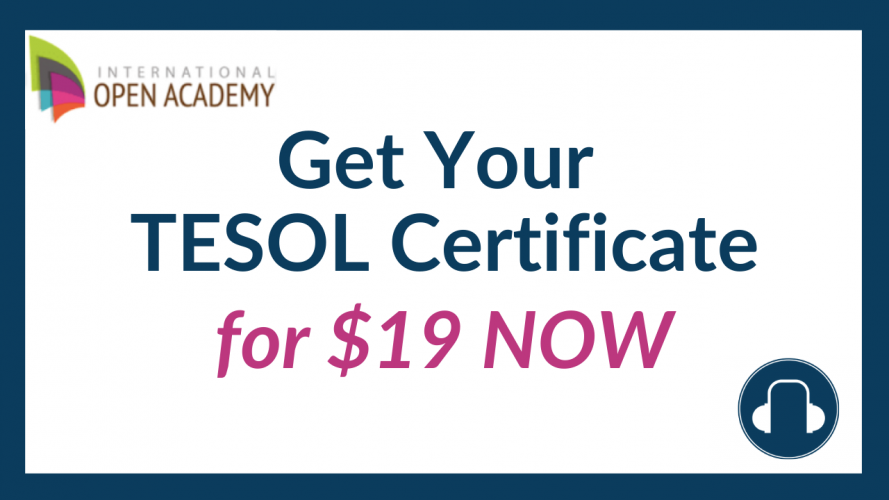 Zebra English Pay
Base Pay: $8-$10
$1 extra for conducting the class on time
$1 extra for 45 plus classes/month
$2 for short notice classes
(If you select short notice slots, you can be booked anytime between 24 hours – 1 hour before)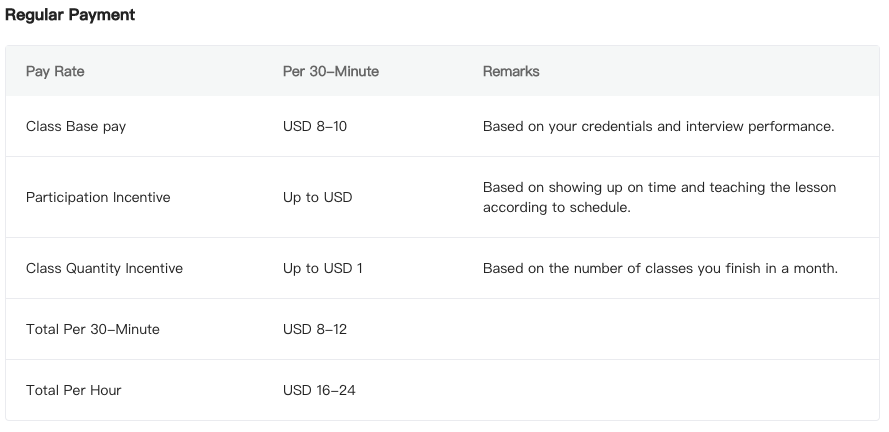 Zebra English Pay FAQ:
How will I be paid?
You will be paid by Bank Transfer and you will recieive the payment no later than the 10th of the following month. For example, January's payment will arrive by February 10th. If you are looking for a low-cost transfer service that gives great exchange rates, consider TransferWise or Payoneer.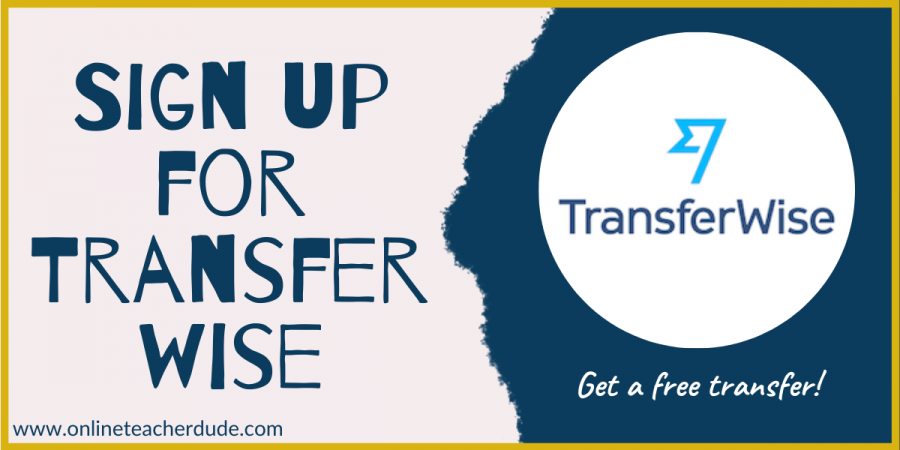 How do taxes work?
You are an independent contractor while teaching English online with Zebra English and are, therefore, responsible for filing your own taxes according to your countries tax laws.
Check out the online teacher tax guide for more information about teaching online and paying taxes!
Does Zebra English have pay raises?
Yes, you can qualify for a raise every 2 contracts.
Zebra English Application Process

1. Apply to Zebra English
If you fulfill the requirements, create an application with Zebra English. Make sure you are using an active email address as this will be your primary means of communication.
2. 5-minute Zebra English Sports Demo
The slides for the 5 minute demo will be emailed to you when you are on this stage! This will need to be recorded on your own, meaning you will not use the Zebra English app to do this self-recorded demo.
You can record yourself using any recording software on your computer (ie: Quicktime for a Mac), and then you can upload it anywhere (ie: unlisted YouTube video) and send Zebra English the link through the portal.
3. Demo Test 1:
The Demo Test 1 is a very important part of the Zebra hiring process. This is one of the most important aspects of the hiring process where you can really showcase your talents and skills as an online ESL teacher. You will want to be very prepared for this stage and invest the time into understanding what it is Zebra English is looking for in its teachers.
You will teach a 20 minute lesson, called "My Feelings".
4. Teacher Briefing
The teacher briefing stage is a more relaxed, 25-minute long session where you will have a 1:1 session with a Zebra English mentor who will walk you through the platform, give you further information on their core values and how you can fit into their company.
5. Background Check, Document Upload & Contract
Congratulations! The hardest part is over. You are now on the final stages and you will need to complete a background check, upload your documents and sign your contract. Any trouble that you have in this section will be best directed to Zebra English via email.
Passing the Zebra English Interview
5 Minute Sports Demo Upload:
The first part to pass is the 5 minute sports demo upload / video recording. You can do this on their platform or via a recording app like Quicktime and then upload it to youtube or Google drive and send them the link.
Here are the tips for passing this video demo: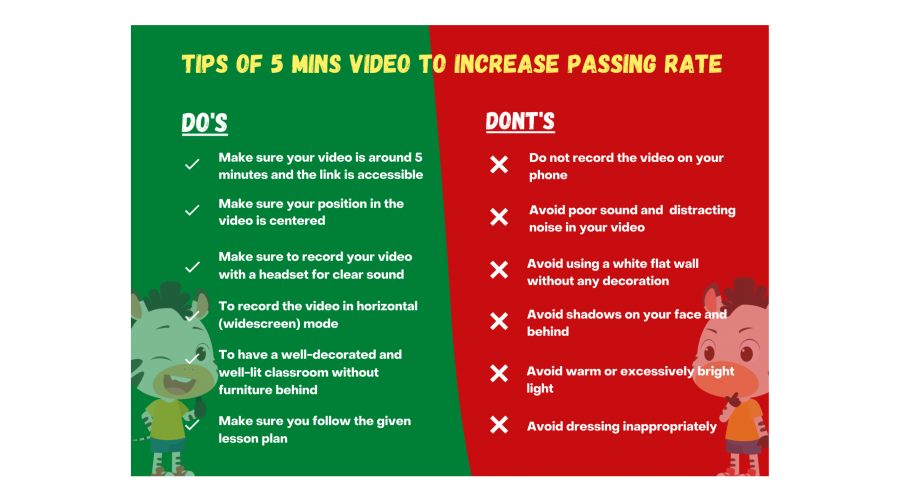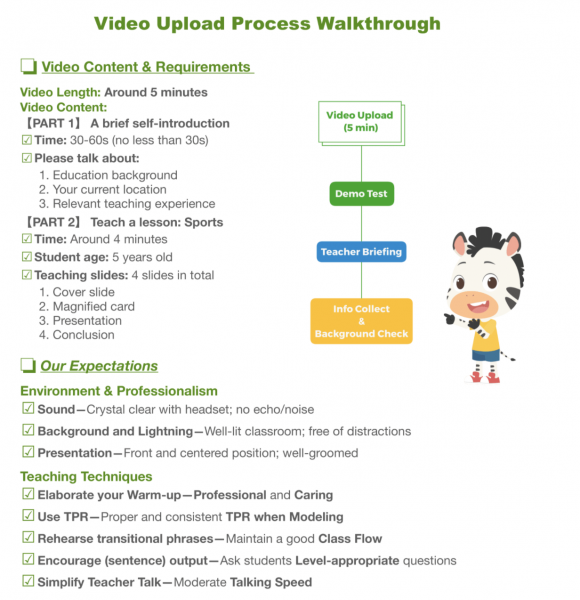 My Zebra English 5 Minute Demo – Sports
After you pass the 5 minute sports demo, you will be invited to do the Zebra English Interview or Zebra English Demo Test 1. This is a very important part of the Zebra English hiring process and it is extremely important that you understand how it works so that you can pass.
You MUST practice and watch all of the videos in the resources section of your portal. Again, they are different than other companies and their expectations are quite unique. Some companies focus on TPR, other focus on energy, and Zebra English looks at other things…let's find out below!
Zebra English Demo Test 1 Tips:
Reward: You do not need a secondary reward, but it's good to have one for the demo. However, you can just use the zebra coins, that's fine.
Zebra Coins: Aim to give the student 80+ coins, that means you are rewarding a lot. Don't forget to also give them stickers throughout – aim for 2-3. Make them bigger, resize and have fun with them!
Games: Understand how to play the games (there are lots!). hint: watch the resource videos!
Speaking: Aim to have the student speaking at least 50% of the time.
Repetition: Do not have the student repeat multiple times if they get it. The Zebra English lessons are a flipped classroom model, so they have already done the work on their own. They are coming to class to practice using the vocabulary and sentences with you. Don't over repeat with them as if it's a new word.
Error Correction: definitely correct all errors timely and positively
Props: Use a variety – at least 3 is recommended.
Rapport building: Build rapport with the student as you go. Ask extension questions and have fun!
Classroom environment: you must have a classroom setup with good lighting, fun and colorful images behind you (your name, etc…)
TPR: Use lots of TPR and use a variety, like hand gestures, facial expressions, and props to help.
Most of all, have fun! Show the interviewer / pretend student that you are excited to teach, that you love students and you will put in the effort to make the class memorable, educational and fun for the student.
What is the classroom like?
The classroom is designed really well. I like how the Zebra English classroom is simple, yet fully functional and is not overly cluttered.
Unlike a lot of online ESL companies, their platform is not full of unnecessary tools and gadgets. The teacher and student camera view is large and is positioned on the right hand side next to a large classroom view of the lesson.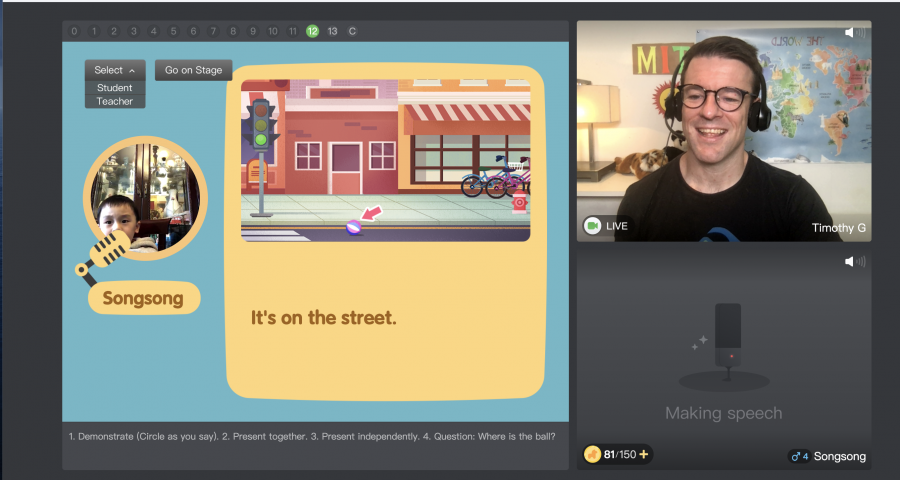 Some other features that are nice include:
lesson slide are clickable at the top of the screen
"big face" mode allows you to bring your screen and the student's screen next to each other to fill the screen
drawing pen feature as well as ability to clear screen and undo last actions
fun built-in reward of "zebra coins" (give them 80-120 coins / class)
built-in support chat if you are having difficulties
Available Teaching Hours
In other words, when can I teach?! Here are the listed peak times, peak peak times and available hours for teaching at Zebra English
Peak Times (all times are listed in BJT (Beijing Time):
Monday – Friday: 6 -7 pm
Saturday – Sunday: 11 am – 7 pm
Peak Peak Times (very likely to be booked hours!):
Sunday – Saturday: 7 – 9 pm
Saturday + Sunday: 8:30 – 10:30 am
ALL Available Teaching Hours:
Zebra English is open from 8:30am – 9:00pm and you can receive bookings during these times, which are called off peak teaching hours.
Zebra English vs VIPKid
There are a lot of similarities and also many differences between Zebra English and VIPKid. Zebra English, like other companies, seem to be modeling a lot of their pay structures and policies after how VIPKid started as a company many years ago. Let's take a look at some specific examples.
1. Pay
Zebra English
$8 – $10 / class base pay.
Incentives: $1/class for each finished class
$1/class for teaching more than 45 classes in 1 month.
VIPKid
$7 – $10 / class base pay. However, most new teachers now only get $7.50 / class
Incentives: Tiered system based on number of classes taught in a month.
2. Hours
Zebra English
Available hours: 8:30am – 9:00pm (BJT)
Peak hours: 7:00pm – 9:00pm
VIPKid
Available hours: 8:30am – 9:00pm (BJT)
Peak Hours: 7:00pm – 9:00pm
Classroom Platform
Zebra English
Zebra English's classroom is very interactive and is game-based with a variety of games that you play with the child throughout the lesson.
Focus: Conversation, vocabulary, role play, application in real life settings
VIPKid
VIPKid's classroom has become more interactive over time but their slides are still predominately static and there are more slides to get through in a lesson.
Focus: Reading, grammar, math, social studies, vocabulary
Zebra English Reviews
Zebra English GlassDoor:
They have only 8 reviews on Glassdoor and a 3.0 rating.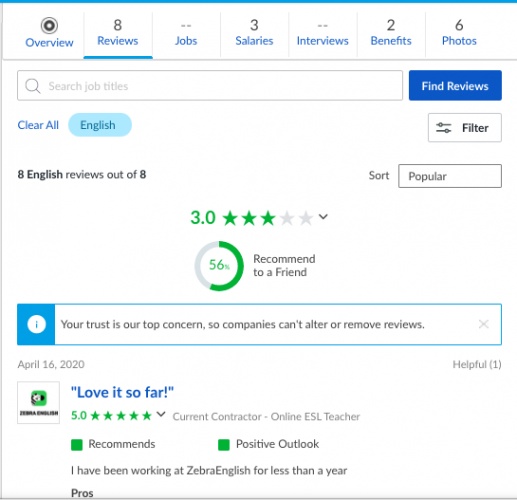 Zebra English Indeed:
They only have 8 reviews on Indeed with a mix of positive and negative.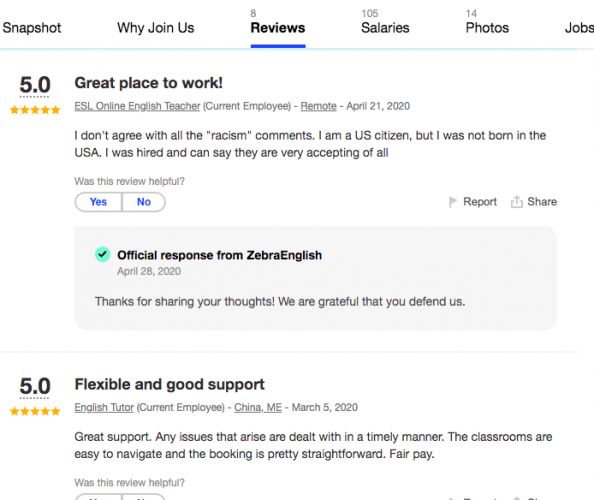 Zebra English FAQ's
What are the advantages of working with Zebra English?
Some of the advantages of working with Zebra English that set them apart from many other online ESL companies are:
guaranteed hours
long-term bookings
consistent students
quick start hiring process
Is Zebra English legit?
Yes, without a doubt, Zebra English is a legitimate company. They are founded by Tencent, the company that owns TikTok so they certainly have the funding and technology innovation support.
Are Zebra English on a hiring freeze?
Zebra English was on a hiring freeze from July – November 16th, 2020 due to not needing to onboard any new teachers. They wanted to ensure their students had a wide selection of teachers and that their teachers were receiving consistent bookings.
However, as of November 16th, 2020 they are hiring!
Check out this video, where I talk about 5 VIPKid alternatives, including Zebra English!
Final Thoughts:
Zebra English is a company that is worth exploring. They have an angle of hiring teachers who want consistent bookings and a regular schedule for the long term. This is appealing to many online ESL teachers because of the industry being saturated with companies that do not guarantee any bookings.
They are a great VIPKid alternative! If you are a VIPKid teacher, like myself, you will find Zebra English extremely appealing and I would suggest applying and giving them your best shot!
They are gaining a reputation and many are finding them a great platform to teach on. If you would like more information, please consider applying and accessing their Resources section which will give you all the information you need to get started.
Other Online ESL Teaching Pages
Pin It!