There are many options for teaching English online and making money. Additionally, there are lots of options for learning a language online. You might be interested in working for or becoming a student on marketplace platforms like Preply or iTalki where the perfect match is made between teachers and students.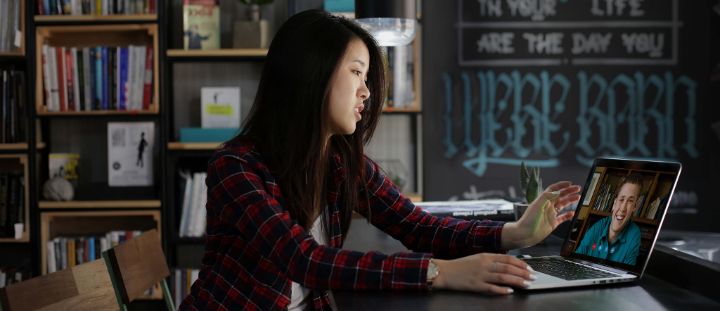 In this article, we will cover:
About Preply & iTalki
Preply and Italki are two of the largest online language tutoring services on the web. They sign up a large number of TESOL accredited teachers from all over the globe to teach one-on-one with their students.
They offer flexibility with time schedules for the student (as both platforms have teachers available 24/7 nonetheless), and they also work with any device.
It is no secret that, as much as it is rewarding to learn a new language, it is also very challenging to adapt a new tongue, especially as a complete beginner.
Language learning apps are helpful, but these are essentially self-study learning books in digital form. Nothing beats actually learning from someone via real-time live sessions.
Real-time teaching allows the student to immediately be corrected with grammar, pronunciation, and other language concerns. Students can also raise questions – which is an advantage compared to language learning apps and they do it all in real time. It increases proficiency by opening more areas of conversation and clarity compared to modular types of learning.
Experience: Preply vs iTalki
Preply
Both services aim to connect students with the appropriate teacher based on their needs and expectations. Yet one of the main features of Preply is that it allows its students to "personalize" their learning experience.
Meaning it allows them to adjust their experience based on the price, qualification, and location of the teacher which are important factors in the student's learning journey.
Sure, a higher price means a higher qualification and longer teaching experience – but that does not necessarily compromise the learning of the student.
Preply offers students a free one-hour trial for a tutor that they would like upon registering in the service.
Teachers do not offer a syllabus of the lessons but rather fit lessons to the needs of the students based on prior assessment. This ensures a unique learning style for every student. Still, it provides a robust system of online learning based on the student's comfort and convenience.
iTalki
Figuring out how to choose a teacher on iTalki is easy. Students get a similar experience where they can connect with tutors that fit their requirements based on location, affordability and desired outcomes from the lessons.
Each teacher has a bio where students can make decisions on whether or not the teacher is a good fit for them or not.
Students can also filter teachers based on a number of categories as well which really helps develop a perfect match between teacher and student.
Similarly, iTalki students can take trial classes with teachers to be able to determine whether moving forward with more consistent lessons is beneficial for them.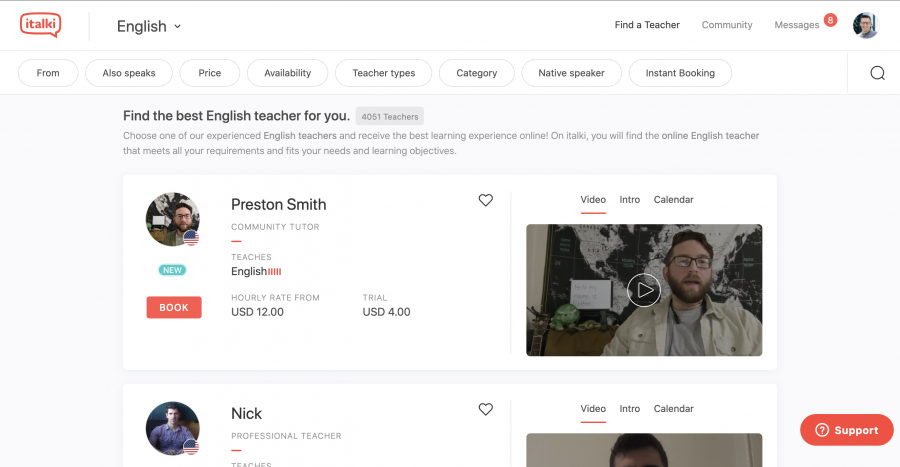 Platform interface: Preply vs iTalki
Preply
Undoubtedly, the service's interface plays a crucial role in imparting the lesson to its students optimally. Preply subscribers are granted with "Preply Space", an easy-to-navigate video-calling platform.
This also allows students to access vocabulary notes and materials that are readily available, as prepared by their teacher. It allows a more transparent avenue of exchange between student and teacher which is perfect for getting comfortable with the tutor's methods of teaching.
iTalki
iTalki similarly provides a platform for students to book tutors and arrange their lessons.
When a student books a lesson, italki will ask which platform you would like to have your lesson on. You are able to choose from video platforms like Skype, WeChat, FaceTime, or ones that are suggested by your tutor as options for having class.
Alternatively, you can choose to use the italki Classroom. Choosing the iTalki platform means that you just log in and click "Enter Classroom" to meet your tutor or student and begin having class.
Learning has never been easier with platforms like iTalki or Preply.
Cost for students: Preply vs iTalki
Preply
Preply finds the most suitable teacher for a student's price range, but that does not mean that it tarnishes the learning experience. All teachers are either native speakers of the language or are internationally-certified to teach.
Students can still expect to enjoy all the perks that Preply has to offer. As low as a $3/hour package, a student can find a teacher who is qualified by Preply professionals that will accommodate all the learning needs of the student.
iTalki
iTalki also allows students to find the best teacher for them at the price range they are looking for.
iTalki teachers are either professional teachers or community tutors. The difference between them is level of education and qualifications. A community tutor is a native English speaker with a high level of proficiency but they lack official teaching credentials.
Often times, the price of the class is reflected depending on the type of teacher you are searching for.
How to become a tutor on Preply
For those who are looking to teach online, Preply could be a good opportunity for you to begin your career as an online English tutor.
Preply Hiring Requirements:
Preply doesn't have strict requirements when it comes to application. A TESOL certificate is not mandatory as each application is approved individually.

What's more, is that you can choose to teach various languages on Preply if English is not your language of expertise. Some of the primary language courses that are being taught at Preply are German, French, Italian, and Spanish.

While you can set your own hourly rates as a tutor, the average weekly income of tutors on Preply is around $550 a week. Typically, the hourly rates are between $15 – $25 per hour. You can start at a lower rate at first then increase it gradually as you gather more experience and collect more positive feedback from your students.
First-time tutors on Preply begin with a trial lesson. But for all subsequent lessons, the commission rate will start at 33% and will continuously decline to 18% once you have completed a certain number of hours.
To begin your application, you only need the following:
Provide basic information about yourself
Submit a headshot photo of yourself
Give an accurate description of your strengths as a tutor
Provide a recorded short video introduction of yourself up to 2 mins long
Indicate your availability
Once you have submitted your profile, your application will undergo review within 5 business days. And once it has been approved, you'll be able to offer your services to students from around the globe!
How to become a tutor on iTalki
It is equally as easy to become a tutor on iTalki.
iTalki Hiring Requirements:
To become a professional teacher on italki requires:
Must be over 18 years old
Bachelor's degree. Education students will be given priority.
1-3 minute introduction video.
Be a native speaker
To become a community tutor:
After you pass the application you will be invited to an onboarding experience that consists of watching some training videos and taking a quiz.
Be 18 years old.
Submit a 1-3 minute video introduction.
Native speaker in your language
After this stage, you will complete a video call with iTalki teacher services.
The final stage will be completing your profile and opening your classes to a worldwide audience of language learners.
How much does iTalki take from the teacher?
iTalki does not charge a fee for trial lesson. For regular lessons, iTalki takes 15% on all transactions between teachers and students.
They use something called italki Credits which is rounded up (there are no partial italki credits).
Preply vs iTalki for Teachers
Both platforms are very similar in that they allow teachers to market their classes on the platform giving them full autonomy over price and their availability.
If you need to take time off, no problem. All you need to do is close your schedule. However, keeping your availability as open as possible in the beginning will be helpful for gaining traction on the platform.
It's always a great idea to diversify your income and find the best platform that works for you as a teacher. Try them both and find out which one works best for your needs!
Additionally, they are a great option for teachers without a Bachelor's degree which might be helpful if you have been trying to get hired with companies based in China like VIPKid or Gogokid.
Preply Review
The Preply platform is simple, clean and easy to use. Affordability of classes is what stands out from a student's perspective as well as the ease of booking a teacher that matches your learning needs.
The commission rates on Preply are high for teachers starting out but they get lower as you teach more classes on the platform. This might be a disadvantage for new teachers on the platform.
Overall, Preply offers a great solution for online teachers who want to teach their language, whether it is English or another, and allows a teacher to make money from home!
iTalki Review
Overall, I like how iTalki lets you book 30 minute trial classes at a reduced rate before choosing a teacher on the platform. This allows a low entry for students who want to check out different teachers.
There are also some nice free features that come with Italki. You can write homework in the notebook section which is pretty awesome. You can have a discussion and talk about anything language-related. Additionally, you can find language partners to practice your English for free.
Conclusion
In conclusion, both services are very effective and are easily accessible and affordable to anyone.
Although each may have their own approach to efficiently imparting the lessons to its students through its interface, everything roots down to finding the perfect teacher.
Before jumping to these sites, a student must have the patience and resilience to scour their most suitable teacher – after all, all tutors on both sites are certified in bringing out one's inner confidence in speaking the language. 
If you are looking for a platform to teach English online through a marketplace like iTalki or Preply to begin building your teacher business, look no further than Preply or iTalki.
Both platforms allow native speakers of any language to offer their classes to a worldwide audience of students who are willing to pay for your expertise from the comfort of your own home.
Want more information about teaching English online?