The VIPKid Smart Demo is the best option for moving forward in your VIPKid journey. Of the VIPKid interview options, It is fast, straightforward and easy to pass. If you understand what they are looking for and are willing to put in some practice time and learning, you should have no trouble passing. The VIPKid Smart Demo interview is your 2nd stage in the VIPKid hiring process.
Table of Contents
VIPKid Interview Options
But first, let's look at those "other" interview options which are perfectly viable options if you would like to do one of them – they just aren't my favorites!
VIPKid Live or Recorded Interview
The VIPKid live or recorded interview will take place on your computer portal. It is important to download the VIPKid PC App. The live interview is a good option for the practice of using the VIPKid classroom. In April 2020, it is not an option due to the worldwide pandemic and influx of applicants. So it will be important to check if it's an option before you commit to this. The recorded interview is the same lesson as the live interview but you have two hours to complete it and you will simply record it in the VIPKid classroom. For both options, the lesson is 5 minutes and is currently called "Me, Myself & I".
VIPKid Smart Demo Lesson
The VIPKid Smart Demo Lesson showed up in the VIPKid interview options in April 2019. It is by far the shortest and easiest option and gives applicants a quick overview of what is expected and an opportunity to practice those skills in a short 2-minute lesson. It takes place on your phone inside the VIPKid Teach App. Once you login to the app with the same username/password that you created on your computer for your VIPKid account, you will see the smart demo as the option. This is what it looks like as a timeline: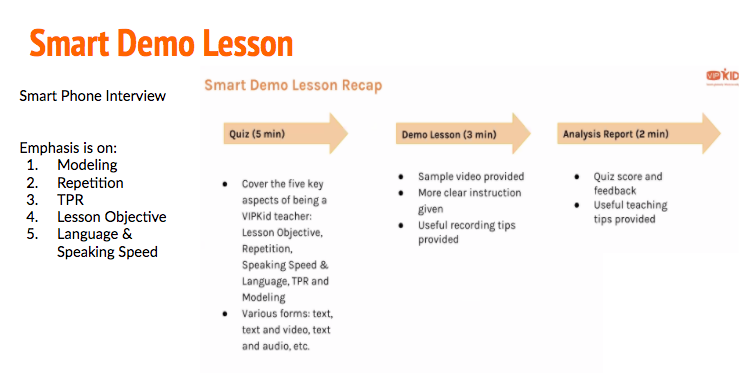 What is the VIPKid Smart Demo?
As stated above, the VIPKid Smart Demo is the newest and latest interview option for VIPKid, and it is a wonderful way to pass the second stage quickly and efficiently. VIPKid has created this option for those that want a stress free demo experience. My VIPKid Smart Demo video below will give you a detailed walkthrough of some of the components of it.
The Checklist
Smart Demo Checklist

Smart phone OR iPad
Smart phone holder (or rest it on something)
Smart phone is at eye level when vertical
Quite area free from distractions
10-15 minutes devoted time to complete it
Simple classroom background
Meg & Mike cutout props (or any boy & girl prop)
Whiteboard (or laminated white paper)
Lighting (selfie light) (see my lighting tips above)
Additional possible props (glass of water, soccer ball, ipad)
A positive and energetic personality
VIPKid Smart Demo Setup
Think SIMPLE for the VIPKid Smart Demo. That being said, I recommend working on getting your classroom set up with a background and lighting because it is going to help you in your Mock class (the next step) and beyond as you start teaching. I always tell my referrals to "look the part" from the beginning, but there is less emphasis on those things in the smart demo since it's just done via your phone.
Smart Demo Background & Lighting
For background & lighting, you can keep it simple. That being said, I am a big proponent of getting yourself set up from the beginning. Why? Because you will need to be set up for your Mock class which comes after the smart demo. However, if you just need something simple and fast, then this is the option for you. Have a simple background setup which can include your name, a reward system, and a few fun "extras". If you need some free, printable VIPKid props, head over to my Props & Rewards page.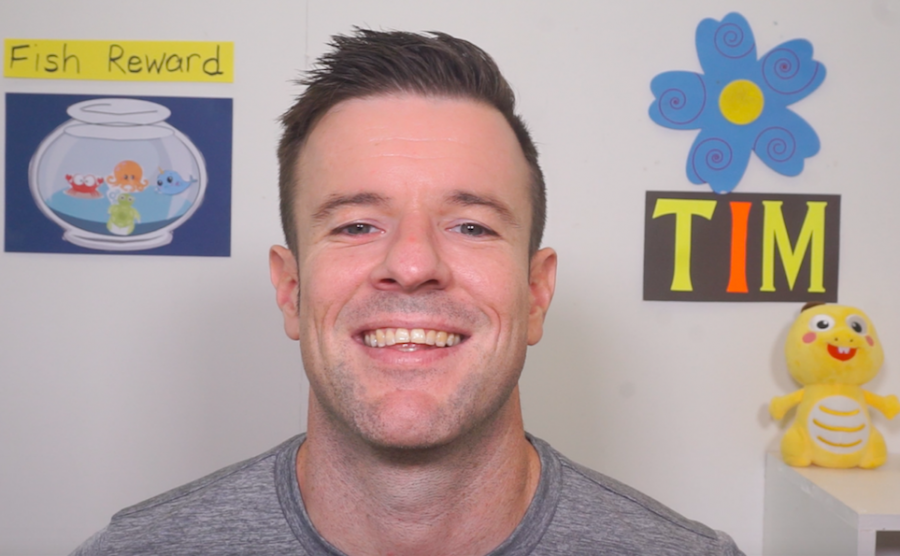 As for lighting, you can keep it simple, and don't stress too much! VIPKid knows that lighting will be something you will continue to be improving on. Here are my lighting tips:
don't sit next to a window without balancing the light on the other side
avoid a lot of overhead lighting above your head
get lighting shining on you from in front of you
use a selfie light
VIPKid Smart Demo Teaching Techniques
Here are the techniques you need to use when teaching the smart demo slides:
TPR (Total physical response) – You must use TPR when teaching the lesson. This just means that you are using your hands a few times to help the student know WHAT you want them to do and to LEARN the vocabulary word and phrases.

ie: put your finger to your mouth when you are speaking and cup your ear when you want the student to repeat.
ie: if you are teaching the word "throw", then use your hands to show that action while you are getting the student to say the word.

Language & Speaking Speed: You have to adjust your language and speaking speed when teaching a pretend 5-year-old learning English. That means that we don't want to see "incidental language". When you teach the words, just say the words and have the student repeat, don't do any "explaining". Make sure you are speaking slowly and clearly, it should almost feel uncomfortable!

Modeling: Show the student what you want them to do. If you want them to circle the word, model that with your mouse or finger (that's also TPR by the way!). Model by saying the word first clearly, then have the student copy what you said.

Lesson Objectives: Make sure that you teach what it says on the slide to teach. Read the objective at the bottom and stick to what it asks you to teach the student. If there is no objective, then the objective is to just repeat the words, phrases and teach what is on the slide as if the student is seeing this word for the first time.

Repetition: Maybe this should be listed first, since its important. Focus on jumping right onto the slide and repeating the isolated word three times (1st time – say it without props, 2nd time – use a prop, 3rd time – use TPR). Focus on good pronunciation and associating the word with your TPR and prop. You are using a "ping pong" style of repeating – teacher says it, student repeats!
VIPKid Smart Demo Props & Rewards
There are 2 props I strongly recommend. I suggest a small whiteboard and and a he/she cutout of Mike and Meg or another boy and girl. These are affiliate links:
VIPKid Smart Demo Quiz Questions
The questions in the quiz that comes before the teaching of the demo slide are related to the 5 skills listed above (TPR, modeling, repetition, language & speaking speed, lesson objectives). The questions will usually be in multiple-choice form. You will need to watch a video, listen to a sound clip, or analyze an image and answer the question accordingly.
VIPKid Smart Demo Slides
I am not going to give you ALL the smart demo slides (those are reserved for my referrals) but I am going to put 1 possible slide here below. They are all the same (ie: focus word at the top, using the verb with pronouns below and corresponding photos. All the possible slides are "I-Introduce" slides.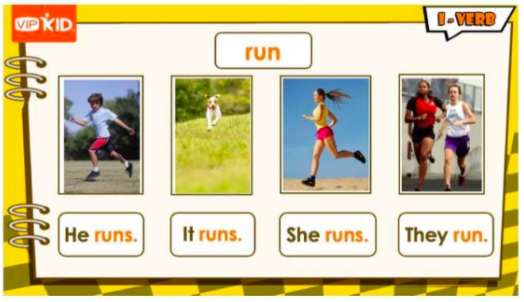 So, on this slide, this is how I would fill the 2:30:
Hello! My name is Teacher Tim. What's your name?
Hi Johnny! Let's Go!
"Run" – wait 3 seconds while cupping my ear.
"Run" – while using TPR or a prop
"Run" – a thrid time using TPR to ensure they understand.
Good job! *pretend to circle he runs*
"He runs" – emphasize the 's', and have the student repeat twice.
"It runs" – repeat x1
"She runs" – repeat x1
"They run" – repeat x1
Check for understanding – say "It ….. run or runs", I might show my whiteboard with the verb conjugated to help them. I wait for them to respond and pretend they get it wrong, then correct them.
Then I would say "Good job! Bye bye!"
VIPKid Smart Demo FAQ
Do I need headphones for the Smart Demo?
No, you do not need headphones. However, it is a good idea to get some, like this Logitech H390 because you will need them for your Mock class.
Can I fail the VIPKid interview / Smart Demo?
Yes, you can fail. However, most people don't, especially if you follow the above instructions and tips. Some people are asked to redo, and a small percentage do fail. If you fail, it's ok, just REAPPLY with a new email address.
Should I have a background for the Smart Demo?
A simple one is fine, but yes, I suggest having something up behind you with your name and some decorations.
Do I need to introduce myself and use a reward?
No, you do not need to introduce yourself or use a reward for the smart demo lesson. However, it would be nice to spend 10 seconds at the beginning saying :
"Hi ,I'm Teacher _________",
"What's your name?"
"Hi (name), welcome! Let's go!"
Want to Work for VIPKid?
Joining VIPKid will be the best decision you make if you are looking for a work at home job, a job that allows you to teach and travel or a job that you want to supplement your income.
Further Questions?
Please email me: [email protected] if you would like more information or if you have applied and not heard from Tim with the password / access to hiring coaching and support.
Jump over to the Online Coaching page for information on how to get supported!
Pin It!