Online teachers make great business owners because of how entrepreneurial and resourceful they are. If you are an online ESL teacher, or a general online teacher, you might find these 6 passive income ideas for online teachers helpful as you think about expanding and growing your teaching business. You can make money as a teacher online and build passive income from home!
What is Passive Income?
Passive income is, essentially, income that is generated without you getting paid based on the time that you are investing into the income. Online teachers are generally paid an hourly wage or a base pay per class, so your pay is determined by the amount of time you work. If you work 5 hours at a rate of $20 / hour, then your income is $120.

Passive income is different because you are not paid on an hourly rate. Passive income does not necessarily require a high amount of time to maintain but usually requires a lot of work on the front end to build the income you want to receive passively.

Online teachers can create passive income for themselves by thinking outside of the box. Of course, like any online venture or desired income, it is not always completely passive. Many of the following streams of income are more passive than others but they all require time and commitment but they can build into great income sources over time.

1. Referring & Recruiting
Many online ESL companies offer a referral bonus for current teachers who are hired if they help someone go through the hiring process and get hired. Essentially, you are paid for referring them to work for the company you work for.

Bonuses generally range from $50 – $150, depending on the company, but an average is around $100. This is a one-time payment to the teacher. Referring does not cost the applicant anything. The applicant doesn't pay for the help of the teacher, the teacher is compensated once the applicant is hired and teaching.

Referring and recruiting are not MLM schemes – it does not work on a pyramid structure. Rather, it is a one-time payment that gets paid to the referring teacher. Some companies offer very lucrative referral bonuses and also offer milestones on top of the bonuses for recommending a certain number of teachers to the company. Other companies require a teacher to teach a certain amount of classes before the referring teacher receives a payment.

VIPKid is a company that has always had a great referral bonus. Currently, they pay $100 for a successful teacher. On Dec. 31st, 2019, they got rid of their milestone bonus which was paying up to $30,000 for referring teachers in the hundreds. A lot of teachers made businesses out of referring and became very successful.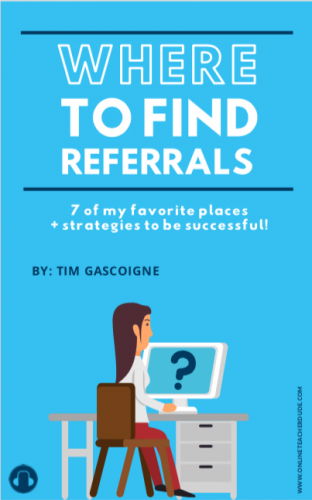 2. Affiliate Marketing
Affiliate marketing is basically recommending products that have an affiliate program. Companies that have affiliate programs will pay a percentage of the sale of an item to the affiliate for recommending the item.

One popular way of using affiliate marketing is through a website or blog. If you have a website or blog as an online teacher, you can easily recommend the products and services that you use every day.

Amazon has a great affiliate program and you can apply and list their products on your website, blog posts, emails, or youtube videos. You must abide by their rules and it can take time to build up, but once your website or blog has organic traffic, amazon affiliate marketing can pay out a lot of passive income.

Another popular way of earning passive income through affiliate marketing is by recommending services and products. Most online ESL companies require a teaching certificate or a TESOL/TEFL. There are a number of companies that will pay affiliates for recommending their TESOL course.  My website recommends some products and services and by purchasing something from the link, you are helping this website as well!

A great one is the TESOL by International Open Academy – this pays 30% of the sale of the course for each time someone purchases the course.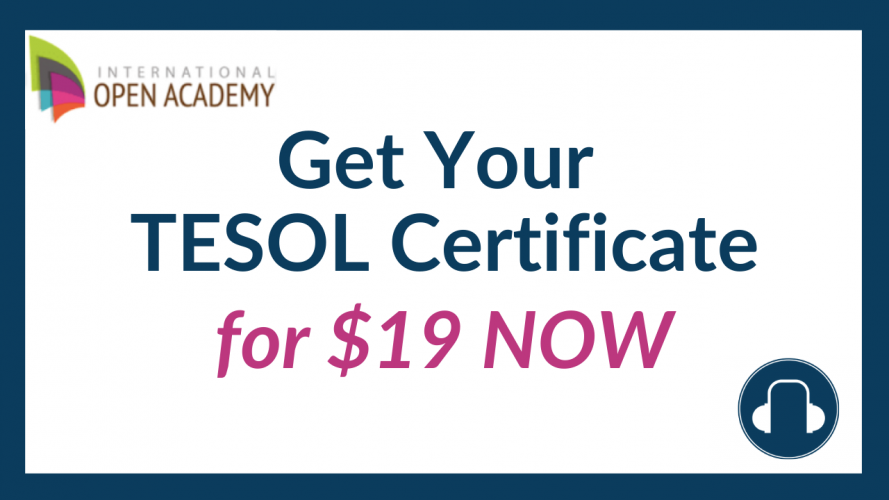 3. Google AdSense
Google AdSense pays you money when you are able to monetize your blog/website or YouTube channel. When your blog/website has a certain amount of traffic, ad agencies will be interested in working with you to put ads on your website.
You know when you are on a website and you see small ads on the banner at the top, the sidebars, or embedded within pages or posts? These are ads that are generating revenue for the site owner. It is a great way to create a passive income because you just leave them there and they can generative income. Of course, there is a lot of hard work on the front end of building your site to have traffic visiting it (this is called Search Engine Optimization).

You can also receive Google AdSense money from monetizing your YouTube channel when it hits 1,000 views and when you have 4,000 watch time hours within the last 12 months.

Here is a screenshot of my most recent months as a YouTube channel of 4,500 subscribers:


4. Teachers Pay Teachers
Teachers Pay Teachers (TpT) is an excellent way to create digital content and benefit from the revenue and sales. If you like creating digital content, this is an extremely popular platform for teacher creators to make money on. 

Of course, there is a lot of upfront work to create the products but you don't have to do much marketing and once the product is listed on the site, you can begin making money from the sales.

Here is a chart breaking down the two types of sellers on the Teachers Pay Teachers platform. As a new seller, you might not want to pay the annual fees for a premium membership. However, as you being getting traction, the higher payout rate should out weight the cost of the membership, depending on the volume of sales that you are able to generate.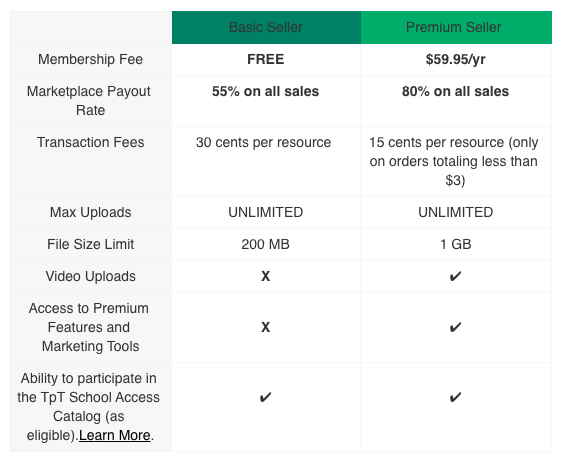 Some teachers are able to make a lot of money on Teachers Pay Teachers – if you are good at creating digital content, this can be a great passive income stream!

Online teachers could sell digital props, reward systems, and other classroom items that would be helpful for online teachers.

5. Creating Courses
Creating a course or multiple courses is another way that online teachers can generate passive income. Of course, depending on the type of course you create or how you want to release the content and what sort of support you will be giving to your students will vary in the amount of "passive" income this can generate.

A true course that generates passive income will be a course that you list, either on your website or a website like Coursera or Udemy and it just sits there waiting for people to purchase it. This type of course creation takes a lot of work on the front end to create the content and list it on the course site, but once it's finished, you will benefit from the sales of the course.

Using course listing sites are very helpful if you do not have an audience as they have the audience and can help generate the sales of your course. Of course, however, you will be paying them a percentage of the sale of the course.  Another way of selling your course is on your own website or on a service like teachable or Kajabi. There are costs involved but it is worth looking into since they take care of a lot of the "technical" issues regarding payment and hosting.

What types of courses could online teachers create?

Online teachers who want to create a business around teaching want to learn about how to do lots of things. Perhaps you have skill in the following:

Website design
Creating curriculum
Creating a YouTube channel
Building a social media following
Teaching teachers methods and best practices
Teaching potential teachers how to get hired
Coaching teachers to pass their Mock class or demo
6. Selling a Physical Product
Finally, a lot of online teachers have created businesses around selling a product or physical item. Setting up an online store can be a great way to create passive income as an online teacher. There will be work involved in managing the shop, payments and marketing, but the financial reward can be great.

Online teachers love buying things that will enhance their classroom. Think about ideas for props, reward systems, or decorative classroom items. Some online teachers have created online shops that sell T-shirts, clothing items and other physical products.  
If you are interested in online teacher businesses created by online teachers for online teachers, please join my YouTube Lives on Mondays at 9am EST where I try to feature various online teacher businesses.

I really like The Good Fortune Box who has created the first online teacher subscription service whereby teachers can purchase a monthly subscription to receive a box of mystery items that online teachers will enjoy!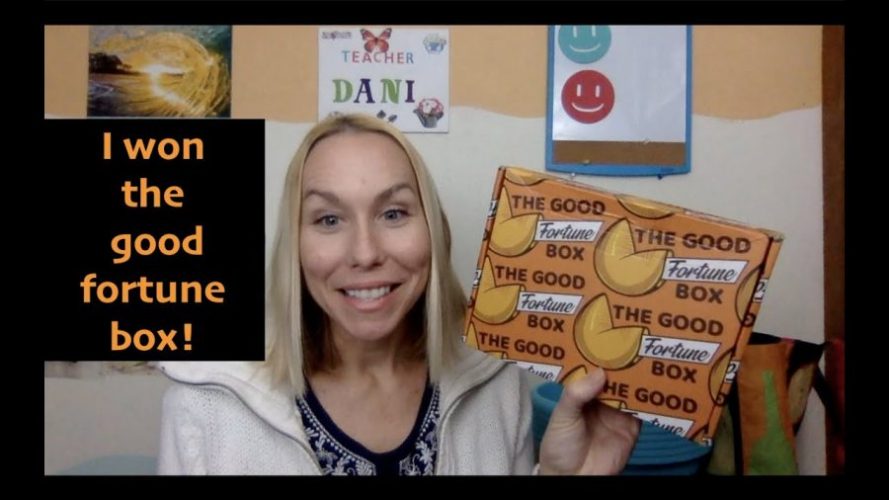 Final Thoughts
As you can see there are a number of passive income ideas for online teachers. None of these are a get rich quick scheme, nor am I advocating for you to use any of them if it doesn't interest you. If you are an online teacher who is wanting to grow their business and find ways to expand and grow your income, then some of these potential streams might be of interest to you.
Pin It!