Table of Contents:
1. VIPKid Overview
2. What is VIPKid?
3. VIPKid Classroom
4. VIPKid Teacher Requirements
5. VIPKid Hours
6. VIPKid Pay
7. VIPKid Application Process
8. Pro's / Con's
9. VIPKid Reviews
10. VIPKid FAQ
IMPORTANT August 2022 UPDATE:
Due to the double reduction policy in China, as of August 2021, VIPKid is now VIPKid Global.

This policy in China has restricted the hiring of foreign ESL teachers. Please consider signing up below to hear of other non-Chinese ESL companies to apply to: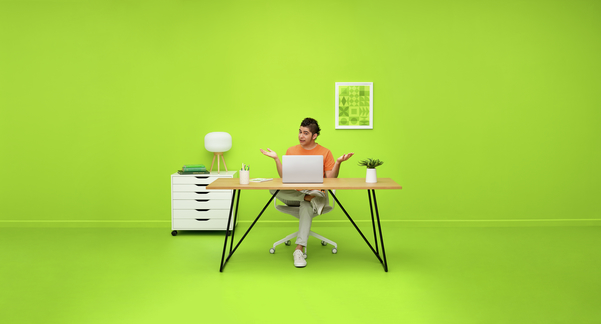 VIPKid Overview
VIPKid is an online ESL platform connecting North American teachers with Chinese children halfway around the world! It is a chance to be your own boss, create your own hours, and work from home. The best part is, you don't need to travel to China! You do this from the comfort of your own home. No morning commute, no paperwork, no stress! You are the boss. Work full time or part-time – your schedule is yours to create and you decide when you want to work!
VIPKid Top Features:
1:1 teaching
25-minute classes
Parent-booked
Flexible schedule
Interactive lessons
Workshops & training
No minimum hours required
What is VIPKid?
VIPKid was founded in 2014 by Cindi Mi. VIPKid has grown into one of the largest online ESL companies in the world and employs over 100,000 teachers with a student base of over 500,000. It was rated by Forbes as their #1 work from home job in 2018. VIPKid has transformed online ESL education and allowed teachers in North America to work from home and teach English to Chinese children across the world.
VIPKid Teacher Requirements
Native English Speaker from US/Canada
They are looking for US & Canadian citizens, but you can live anywhere in the world. Typically this means that you need to have a US or Canadian passport but if you have paperwork allowing you to live and work in the US or Canada, then it is worth applying. The other thing they are looking for is a neutral, North American accent. VIPKid is no longer accepting teachers from California.
Completed Bachelors Degree
This can be a 4-year Bachelors degree in any field of study but it must be completed. They do not accept those in their final year of their degree or in progress. You can still apply if you are in progress, but make sure you indicate you have completed the degree on the application form. Then, you can send in your proof of degree when you are completed before you start teaching.
1+ years of teaching-related experience
For the years of teaching-related experience, you must indicate at least 1 year on the drop-down menu otherwise your application will automatically fail. This doesn't mean teaching in the classroom, this can be anything related to teaching children in a leadership capacity (ie: sunday school, camps, daycare, homeschooling, etc…).
TESOL / Teaching Certification
If you have a teaching license or certificate then that should be sufficient. If you do not, then you can obtain an inexpensive TESOL/TEFL course online (like the one below) that takes just a few hours to complete. Alternatively, VIPKid has their own proprietory course that you can take after you pass your Mock class and it is free.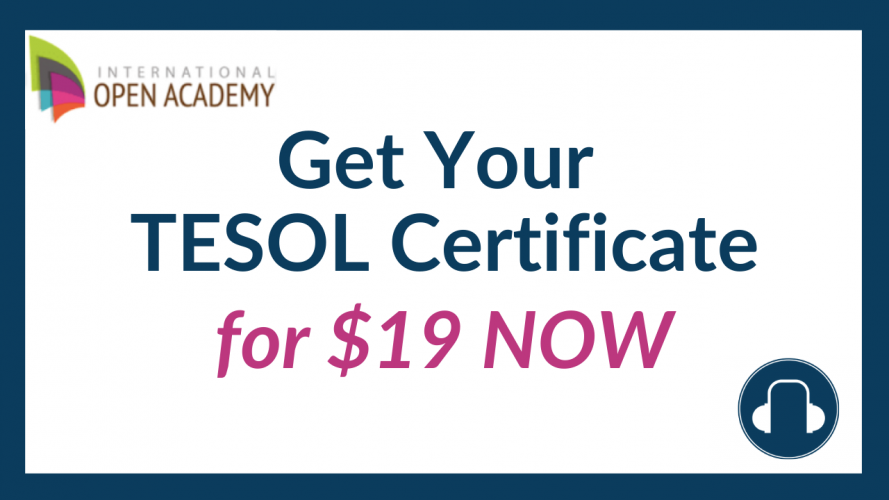 VIPKid Hours
So, what are the VIPKid hours? Well, you create your own schedule and you are 100% in charge of building your schedule to suit your life. One of the wonderful aspects to working for VIPKid is that there are no minimum hours / week required so you can turn it off or turn it on, depending on your schedule.

Available hours are :
Monday – Sunday : 8:30am .- 10:00pm Beijing Time
Peak teaching hours are : 7p-9p Monday – Friday.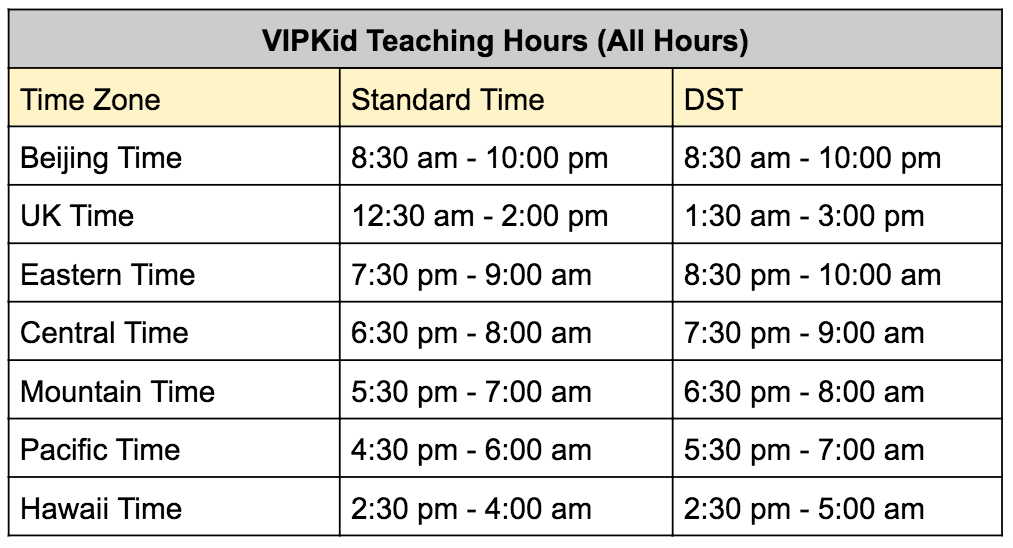 As a new teacher, you are most likely to be booked during peak times, when students are not in school, but lots of hours are possible, especially on weekends, holidays and extended summer and winter breaks. There are students in many different situations such as living in various time zones, home-schooled, and students who are not school aged. Students take classes during lunch hours and directly after school so it's best to be as available as possible in the beginning.
VIPKid Pay
You can make between $15-$22/hour in USD (base pay plus monthly bonuses). Average pay is around $17/hour. Some people like to do short notice bookings which increases your pay by $2/class if you are booked within a 24 hour window. Payments are deposited to your bank of choice each month with options for various pay schedules. They are 100% consistent and reliable. There are lots of ways to increase your VIPKid pay as you teach more classes and create a strong profile on the platform.
How does VIPKid pay their teachers?
You can be paid via direct deposit to your bank account or through Paypal.
VIPKid has different pay schedules such as weekly, bi-monthly & monthly.

VIPKid Incentives (2020 updated)
VIPKid has a new incentive program for new teachers that were hired after December 17th, 2019. As of May 2020, this is not teachers hired before December 17th, 2019. Newly hired teachers will fall under the new incentive program which rewards teachers for teaching more classes with VIPKid. The more you teach, the more you make!
The incentive structure is based on two categories (Tier & Finished class / month). Your tier is determined by how many total classes you have taught with VIPKid since being hired. New teachers start on Tier 1 or Tier 2. Then, you will know how much you get per class based on how many classes you teach each month. You are paid a different incentive for different brackets of classes. If you are on Tier 1 and teach 50 classes in the month, you will get $0.80 for the 1st do classes, $1.20 for the next 20 classes, and $1.6 for the next 10 classes. Refer to the diagram below to better understand: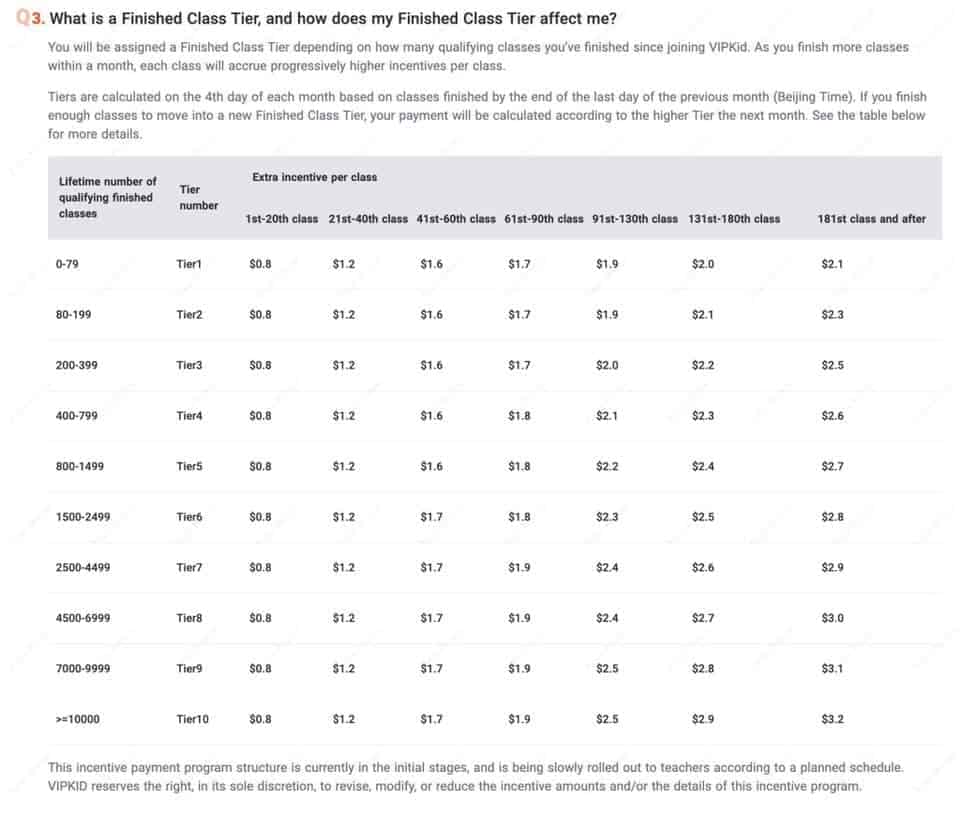 VIPKid Application Process
1. Application: Apply Here
2. Interview: There are a few options, including a 2:30 teaching demo from your phone. You only have to choose 1 option.
Live Interview – Book your live interview on your portal on your computer. This is done with a live interviewer and takes around 20 minutes to complete. You will teach a 5-minute lesson to the interviewer who is pretending to be a 5-year-old.
Recorded Interview – This is also done on the computer through the portal. You will teach the same 5-minute lesson as the live interview but you will have two hours to complete it.
Smart Demo Lesson – this is by far the most popular option. It is fast and easy! Download the VIPKid Teach app on your phone and complete the teaching of 1 slide after going through some materials. The teaching is recorded and takes 2 minutes.
3. Certification Mock (choose a Level and do a 10-minute LIVE demo). You have multiple chances to redo this until you pass.
In the certification stage, you will complete the Lower Level Mock (level 2 & 3) or the Upper-Level Mock (level 4 & 5). You have to complete one but you can do them both if you want. The difference is that if you only complete one, then you do the other ones once you start teaching but they will be recorded demos and not a live teaching mock.
4. Contract Phase:
Upload proof of degree and citizenship
Upload TESOL certificate
Create your VIPKid profile
Complete background check
Sign Contract! (this is the very last thing you can do).
Pro's:
flexible schedule
no minimum hours
large student base
supportive community
stable & reputable company
Con's:
only hires North Americans
repetitive slides/curriculum
rigid cancellation policy
little opportunity for advancement
slower start for new teachers
VIPKid Reviews
There are many reviews about VIPKid online. It is important to note that there will be positive and negative things said about any and every online ESL company. Remember that the most unhappy people speak the loudest.
VIPKid was named by Glassdoor as one of the top 10 places to work in the US & Canada in 2020! Here is a smattering of reviews from places like Reddit and Glassdoor:
VIPKid Reddit Reviews: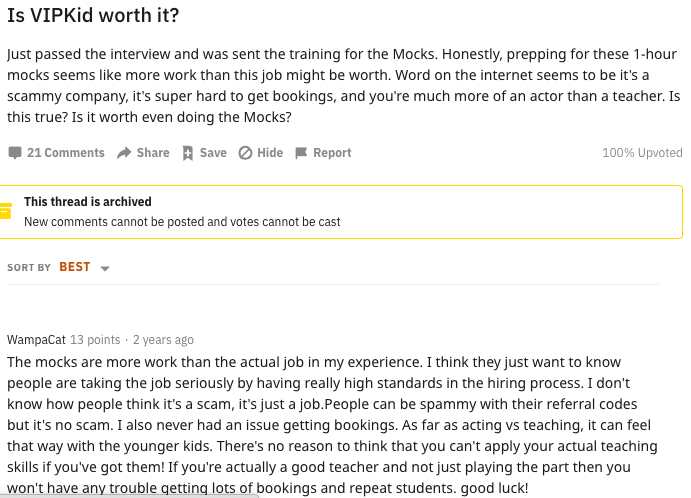 VIPKid Indeed Reviews: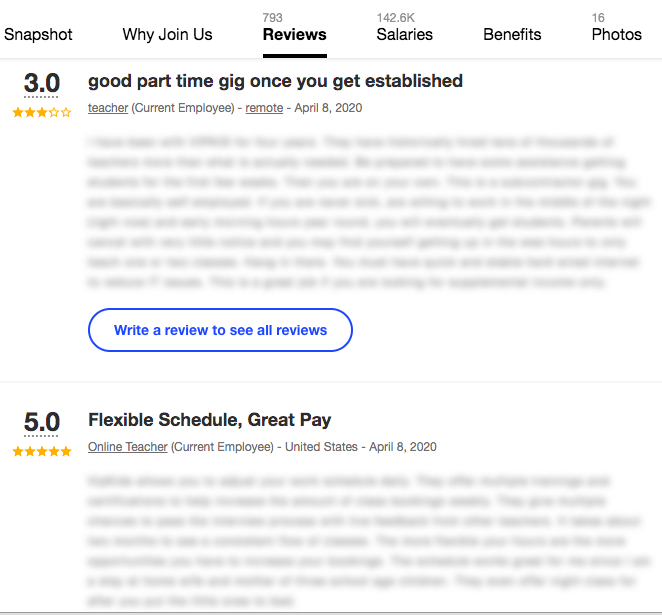 VIPKid FAQ
Are VIPKid bookings down?
Firstly, VIPKid bookings are not guaranteed but the company wants its teachers to be successful. There are various times of the year when we see bookings fluctuate. When students are on holiday (summer, Chinese New Year, etc…) sometimes teachers see a decrease in bookings. That being said, other teachers see a rise in bookings! There are times when brick and mortar teachers are on holiday they might be opening more classes and so this might mean that they are teaching more and others might see a drop in bookings. Bookings are variable and are different for each teacher. Work on giving excellent classes, building up a strong profile and maintaining a group of regulars that are always wanting to book your classes.
Is VIPKid still hiring?
Since the beginning, VIPKid has always been hiring. There has never been a hiring freeze at VIPKid (as of May 2020). However, there are times when lots of people are applying to teach ESL online, and when that happens, applicants remain in the hiring process for a longer period of time. The company is wanting to ensure that there will be students there to take classes with new teachers so they are hiring teachers as the need arises and releasing them to correspond with their needs.
Is VIPKid worth it?
If you are looking for a flexible, work at home job then VIPKid is absolutely worth it. It is important to have realistic expectations about how much you can work and how much you can make. New teachers often have a slow start but, again, this is not always the situation. If you are wanting a part-time job that could build into something full-time then there is no better time to get started than now. This is your business. The work you put into it will pay off!
Is VIPKid hiring in California?
As of January 1st, 2020 VIPKid is no longer partnering with teachers from California. This has to do with new independent contractor laws that have been released that prevent VIPKid from partnering with teachers in California. If you would like more information about this, you can refer to this article.
Conclusion
VIPKid is a great company to apply for if you are wanting a flexible, work at home teaching job. Join a large community of teachers who will support you on your new online ESL journey! Create a life you love doing what you love and build a solid work at home business!
Important VIPKid Referral Information:
By applying through OnlineTeacherDude, you will instantly become his referral. This means that you will receive an email within 24 hours with hiring support resources, free downloads, and access to personal coaching and support through the password-protected section of this website.
If you apply with the link above, there is no need to add a referral code. However, if you already have an account, you can make a new one with a new email address OR add this code: TIM000003 under "My Account" in your VIPKid portal.
Related Posts
Pin It!